[caption id="attachment_17845" align="aligncenter" width="618"]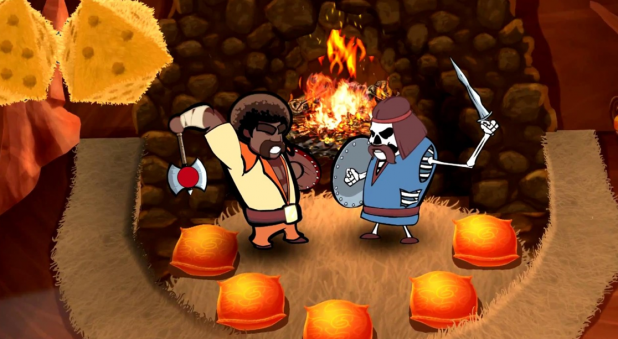 Soul Fjord
, just one of the exclusive games for Ouya.[/caption] Pretty soon, you might not need an Ouya console to play Ouya games on your TV, according to Julie Uhrman. As founder and CEO of the
Ouya
(pronounced "OOO-yah") game company, Uhrman's mission has been to lure gamers back to their living room televisions. Touch-screen gaming on a smartphone or tablet is nice, she suggests, but a big screen, coupled with the precision of a controller with buttons and analog sticks, offers the best platform for immersive, emotionally engaging experiences. Just how many people are playing Ouya games isn't clear. The device's first year on the market was a challenge, and the company hasn't revealed hard sales numbers for the $99, Android-based console. Soon enough, though, you shouldn't need an Ouya console to play Ouya games. Later this week, Uhrman plans to announce "Ouya Everywhere," an initiative to bring Ouya games to television sets that aren't connected to Ouya hardware. As a company, Ouya remains vague about just how Ouya Everywhere will work; but in an interview with Slashdot, Uhrman provided a rough idea of what to expect: "Right now, our growth is limited by how quickly we can make a box and put it into market… We know that our demand far exceeds our ability to do that." So what does "Everywhere" mean? "It could be another set-top [box]," she said. "It could be the TV itself. There's a number of different ways that games can be played on the television, and we're actively exploring all of them." (If Ouya is looking for a partner to help it build an Android set-top box, Amazon could prove an ideal option, as the e-commerce giant
is rumored to be releasing one this month
.) Ouya has already signed one deal, which it will announce within a couple of weeks, Uhrman said. "We started having conversations at CES and we're really surprised by the pickup the idea had, so we're jumping in with both feet and it's a core focus for us," she said. However, she's keeping many of the details secret for now. To be clear, Ouya isn't getting out of the hardware business. The company has promised relatively frequent hardware refreshes, and already upgraded the original Ouya's controller to address early complaints. The next version of the Ouya hardware "at a minimum will have a higher performing chipset," she said. "We have done a lot of work on our controller and we feel like there is even more work to do. Those are the two big things we're focused on." [caption id="attachment_17844" align="aligncenter" width="618"]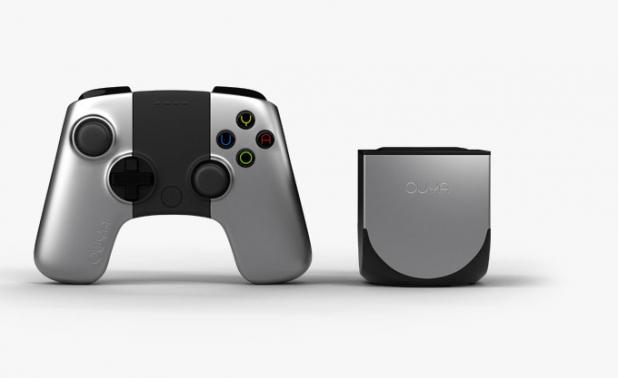 The console in question.[/caption] But while her company builds hardware, Uhrman insists that Ouya is "really a software company. The largest team inside Ouya is software engineers." (Ouya has 49 employees, 19 of them engineers.) Ouya Everywhere is about "bringing our software to other people's devices by embedding it in those devices. We've always wanted to be an open platform. It started with a hardware product for us. We will always have an Ouya reference design… but in addition to just being a reference device we believe our ecosystem can live on other devices." One potential path for Ouya is to release a software application that can be installed on numerous platforms, much like Valve's Steam, a behemoth in PC gaming. That's "something we're thinking about internally. It's certainly something we can do," Uhrman said of releasing a Steam-like application. But for the moment, Uhrman seems more inclined to partner with hardware makers: when asked if she intends to bring Ouya to PCs, she said the company is "having conversations with partners." However it plays out, Uhrman said she wants to make sure any fragmentation of the platform doesn't create a burdensome amount of work for game developers. Porting Ouya to non-Android platforms would take some work but isn't impossible, Uhrman added: "Based on our strategy to bring games to gamers wherever they are, it is absolutely conceivable that we will." Theoretically, Ouya could also mix smartphone and tablet gaming with the TV. Already, a trivia game named
You Don't Know Jack
has a companion app for Android and iOS that can be used as an extra controller.
Ouya Struggled Out of the Gate
Ouya arrived with great fanfare in 2012, after a $950,000 Kickstarter campaign met its goal in just eight hours. The fundraiser ended up raising $8.6 million, and Kickstarter backers received their consoles in March 2013. The product hit retail in June. Hacking was encouraged—users and developers were told they could root the console without voiding its warranty. Uhrman wanted to both help developers make money selling games and forge a greater bond between developer and player. In a unique twist on a traditional console ecosystem, all games on Ouya are required to include a "free to play" element; at the very least, players get a free demo of each game. Developers can make money by selling the full game or in-game purchases of items, upgrades, and other features. One "thing that has been surprising to the extent that it's happened more than we anticipated is that Ouya really has become a playground for developers to test ideas," Uhrman said. "We're seeing more alphas and more betas on Ouya than we ever anticipated." Some Kickstarter games have made demos available on Ouya, such as
Saga Heroes
and
Obscurus
, to give gamers a taste before deciding whether to back the funding campaign. "We're creating abilities for developers to launch betas and to get real-time feedback," Uhrman said. Ouya is "the place where developers go to have that direct communication with gamers. That's thrilling for us to see and we're the only place you can do that." Ouya appears to be having trouble gaining share in a packed field, however. Besides continual advances in mobile gaming, the console market has the Nintendo Wii U, Microsoft's Xbox One, Sony's PS4, and will soon have consoles based on Steam. "I think starting any business is hard. I think starting a business in a market with an oligopoly of competitors where they're coming out with their next generation boxes makes it exponentially harder," Uhrman noted. Reviews of Ouya were often not kind. A story titled, "
5 ways the Ouya game console failed
" on
Tom's Guide
accused the console of suffering from "few original games; no audience; [a] poor controller; limited capabilities; [and] redundancy." Uhrman listed the positives: Ouya has more than 675 games, with more than 100 being exclusive to the system. Some 33,000 developers have bought development units, signaling intent to bring more games to the system. Even so, Ouya hasn't revealed its hardware numbers to consumers, and we don't know how many Ouya hardware buyers have actually purchased games through the Ouya store. One reason people buy the Ouya is to play classic games on emulators, which doesn't generate revenue for developers. Last July,
Uhrman said
27 percent of Ouya owners had paid for games in the previous month. She told Slashdot last week that the percentage "has increased every single month since launch, and the dollar amounts per paying user has increased." Ouya's first big hit was
TowerFall
, an archery combat arena game that helped boost the console's sales. It has been an Ouya exclusive since its debut in June, and is coming to Windows and PS4 on March 11. Another Ouya exclusive,
Soul Fjord
, comes from the indie studio Airtight Games (and developer Kim Swift of
Portal
fame). While Ouya clearly has drawn interest from independent developers, the platform would benefit from more deep-pocketed publishers. "We have games from some of the triple As," Uhrman noted, but the ones she pointed to—
Final Fantasy III
from Square Enix and
Sonic
games from Sega—are ports of older games from other systems.
"A Platform That Has No Rules"
Gabe Newell, co-founder and managing director of Valve,
has said
that Linux and open source software are the future of gaming. While Ouya isn't strictly open source or freely available in the manner of Newell's SteamOS, its use of the open source Android and encouragement of hacking gives it some open-source credibility. Spreading Ouya to platforms beyond just the Ouya console might make it more appealing to developers who don't want to be beholden to a particular piece of hardware, Uhrman believes:
"We believe in giving creative freedom to all developers, and if you allow the creators to build the game that they want, the way they want to build it for the distribution platform of their choice, you're going to get the most inventive, creative unique content you've ever seen."
Still, she hopes to make the Ouya console a must-have device in its own right. "I've been quoted as saying, 'It's an also device,'" Uhrman said. "Three to four years from now I want it to be the first device you buy. I want you to want the creative experiences that new developers bring to a platform that has no rules."
Images: Airtight Games/Ouya