Remember
Pac-Man
,
Donkey Kong
and
Space Invaders
, or the raft of other 8-bit video games you were fiercely devoted to back in the day? They cutting edge circa 1979 but today they provoke sweet nostalgia for the folks who were weaned on them. Now, whether you're reminiscing or discovering them for the first time, you can pay tribute to those champions of gaming by lifting a pint of 8-Bit Pale Ale.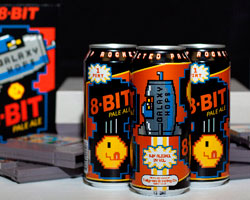 The brew is the brainchild of Jeff Gill, who in a former life was an avid home brewer and environmental geologist. His Manhattan, Kan., Tallgrass Brewing Company produces several artisanal potables with memorable names like Buffalo Sweat and Velvet Rooster, as well as the more prosaic Halcyon and Oasis. I spoke to Gill via phone from Tallgrass's HQ. He said that he and his colleagues had been bouncing around names for their new ale when they had an epiphany. "We started talking about the games we played in college in the '80s and '90s and how the 8-bit games were classic. Then it all connected and hit the nail on the head. The games are simple and fun but also have a complexity, just like the ale. We also love the way it sounds rolling off the tongue." The can's Pac-Man and Hop Rocket character design came from Tallgrass's artist/designer Neil Camera. "We gave him the concept and the feel of where we were coming from with the beer and the brand," says Gill, "and he ran with it."
Drinking and Gaming
If you think beer is better with a video game, or
vice versa
, Tallgrass's website includes a link to an 8-Bit Pale Ale video game. Well, sort of a video game. "Our first reaction was 'let's design our own video game!" says Gill, "but it was cost- prohibitive and we're a small brewery after all. So we went for live action and puppets." For you beer nerds out there, Tallgrass has infused the character of Australian grown Galaxy Hops into an American Pale Ale. Although I haven't tasted it, the affect is described as tropical, with a near melon aroma and 8-Bit has been favorably reviewed on beer sites. Tallgrass beers are currently distributed in 13 states in the Central Time zone, save Illinois and Texas.
[youtube http://www.youtube.com/watch?v=scmKAS_DRJg&wmode=window&h=315&w=560&h=315]
Related Links