Technology job candidates are among the most likely to be screened with pre-employment credit checks, so they may be particularly interested in a proposal in Congress that would bar employers from using such checks during the hiring process. According to a random survey of 544 human resource professionals, 87 percent say job candidates with responsibility for technology, as well as fiduciary and financial responsibility, are subject to pre-employment credit screening. Oracle, for one, has previously come under fire for its use of credit checks. Meantime, 25 percent say they are likely to screen IT workers who have responsibility for electronics equipment and other forms of property, according to the Society of Human Resource Management, which conducted the survey.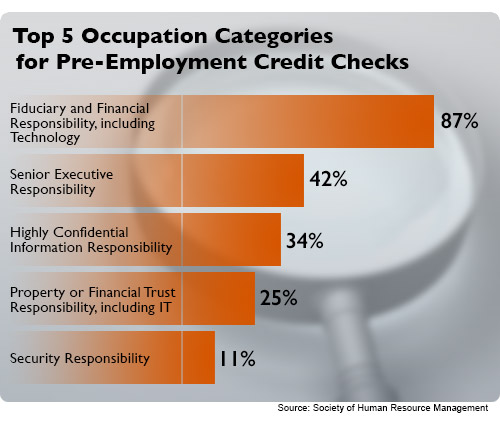 History of Good Credit
Employers overall tend to favor a six- to seven-year credit history when screening job applicants. According to the survey, 52 percent of high-tech job candidates who have fiduciary and financial responsibility are likely to have a history pulled. That credit report looks at timely payments, size of debt and other factors, and is different than a snapshot credit score, says Amy Traub, senior policy analyst for think tank Demos. "A high salary is not a good predictor of creditworthiness," Traub says, noting that pre-employment credit checks are unfair and serve no useful barometer on whether a potential employee is likely to steal money, property or information from their employer. She notes that even though engineers and other high-tech jobs pay well, a medical catastrophe or layoffs can suddenly put a good credit rating at risk.
States with Credit Check Restrictions
Although there is an effort afoot to impose a federal ban on pre-employment credit checks, some states already have restrictions in place. California is one. The other nine include Nevada, Colorado, Connecticut, Hawaii, Illinois, Maryland, Oregon, Vermont and Washington, according to law firm Seyfarth Shaw. According to the Washington Post, Sen. Elizabeth Warren (D-Mass.) introduced the "Equal Employment for All" bill, which is meant to stop employers from disqualifying job applicants based on a poor credit history. Lawmakers argue that the use of credit checks in hiring adds to long-term unemployment and disproportionately impacts women and minorities who took a hit during the financial crisis. "No one should be denied the chance to compete for a job because of a credit report that bears no relationship to job performance," said Warren during a call with reporters. She is one of seven lawmakers sponsoring the Equal Employment for All Act. The Fair Credit Reporting Act currently allows employers to check a job applicant's credit history if the applicant gives their consent. According to a 2012 survey by SHRM, 47 percent of employers use credit checks when making hiring decisions. There's a long history of using credit reports to figure out if applicants who would be responsible for handling money can manage their own finances, says Elizabeth Milito, senior executive counsel at the National Federation of Independent Business. "A credit check can serve an important function in certain jobs, especially in the financial services industry," she contends. "A blanket prohibition would disadvantage many businesses that use credit as one component of a background check." But the practice is now pretty common for any type of position, and advocates and lawmakers say there is little evidence that credit checks make sense across the board. A study from Demos revealed that credit checks were conducted for jobs such as telephone tech support and selling frozen yogurt. The think tank polled unemployed Americans and found that one in 10 had been told they would not be hired because of their credit history. Poor credit was often related to lack of health insurance, medical debt or job loss. "The use of credit checks creates a Catch 22 for job seekers," says Nancy Zirkin, executive vice president of the Leadership Conference on Civil and Human Rights. "It traps unemployed workers who have fallen behind on their bills in a vicious cycle of debt." Myra Thomas contributed to this report. Have you faced job-hunting challenges because of credit checks? Tell us about it in the comments below.