In professional sports, data has always been an important tool for fans and franchise executives alike. Yet as the Internet, PCs and mobile technology continue to grain traction, sports data is creating new avenues for fan experience.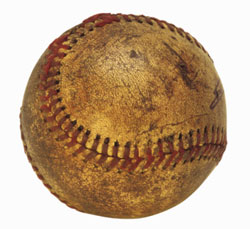 National sports leagues, individual franchises and companies that specialize in sports technology are creating innovative ways to disseminate sports information, especially through mobile platforms. They're using SMS, mobile websites, and smartphone applications, opening up new opportunities for technology professionals with an interest in sports applications.
Major League Baseball recently introduced the At Bat 2010 app, which allows users to watch entire games, highlights and condensed games, and receive box scores and player stats by the minute. For the upcoming FIFA World Cup, the Fox Soccer Channel teamed with 2ergo to develop Ticket to South Africa, a free iPhone app that features team and venue information, personalization, live scoring and on-demand video clips of games.
Data, Data Everywhere
The result: "Now sports fans don't have to be in front of a TV to watch games or get instant updates," says Lindsay Woodworth, director of marketing for 2ergo, which develops mobile technology solutions. "With smartphones and the iPad, live streaming video is possible, as well as interactivity, allowing fans to drill deeper into the information they want."
2ergo, by the way, likes technical professionals who know their way around mobile application development, including developers skilled in the mobile OS languages for each phone including Objective C, Xcode, Java, CSS, C# and .NET.
SportsMEDIA Technology Corp., a company that provides graphical data streams during live broadcasts such as NFL football games, sees a growing trend of audience demand for interaction and alternative platforms for sports information. Because of this, the company is focusing on creating mobile and Internet solutions, as well as changes to graphical feeds in televised sports.
"We have large databases full of information, but what's getting on screen is information that's been relatively filtered through a straw," says Gerard J. Hall, SportsMEDIA's president and chief executive. "We're now looking at other areas to deliver data to consumers directly, through mobile-based applications and websites."
On Further Review
SportsMEDIA looks to hire professionals with experience in C# and .NET who are also avid sports fans and/or played sports previously. Yet the company also considers people with general computer science and problem-solving skills, if they have a strong interest and experience in sports.
Even professional sports teams are hiring IT professionals to create ways to reach an audience. The San Francisco Giants has a CIO and a tech department to help develop avenues that reach out to Giants fans through the AT&T Park WiFi system. During Giants games, fans with smartphones can log in and access the team's "Digital Dugout" and watch video replays of controversial calls three minutes after they happen. The service includes a "food finder" that helps locate the closest concession with the food or drink they want. Fans can also receive player alerts, scores and stats via text messages during the game.
"I think that mobile devices are an instrumental part of the sports viewing experience," says Bill Schlough, senior vice president and CIO of the San Francisco Giants. "I think it's important for teams to have an IT leader thinking strategically about how technology can drive business or enhance experience for fans."
Cisco has a sports and entertainment division for the development of technology applications in the area. One of its solutions, StadiumVision, offers a host of technology amenities at sports stadiums. At Yankees Stadium, the service includes more than 1,100 high-definition monitors, IPTV phones that enable touch-screen ordering of concessions, on-demand video replays and statistics, and wireless access throughout the building.
Says Michael Caponigro, senior marketing manager of Cisco Sports and Entertainment: "Technology will play an increasingly important role in connecting fans around the world with the passion of sport, allowing them to access any content, anywhere, on any device and personalize and share their experiences like never before."
Chandler Harris writes about business and technology from California.