Introduced in October 2012, the
Pure Android Collection on Google Play
is an exclusive group of apps deemed worthy by Google's Android Development & Design Teams. This group of apps is so exclusive only
two
have been accepted since the program's inception last year. (Watch
this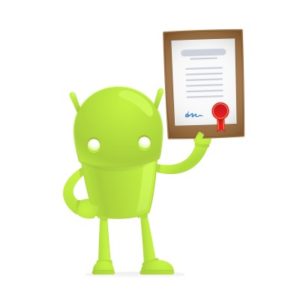 episode of
The App Clinic,
where the collection is introduced to learn more about the criteria for selection.) "These apps represent examples that follow the Android design guidelines and coding best practices to create a great user experience that's uniquely Android," says Reto Meier, Tech Lead Android Developer Relations Team and fake doctor co-host of
The App Clinic
. Inclusion on this featured list requires apps to follow some specific criteria, and also some non-specific characteristics described as "magical" and "delightful." Before submitting your app to be reviewed, make sure you've followed the Android app quality guidelines for tablets and phones. Since design is included in the feature selection process, you should also follow the official Android Design Guidelines. Each episode of
The App Clinic
offers a wealth of constructive advice for developers, straight from guys who know Android best. After all, it's their job. Here are some of the key messages from the video:
Basic Pure Android Guidelines
At time marker 23:06:
Additional Suggestions
Some concrete, others not so much:
Code Efficiency
Buttery: Buttery smooth is a term (of endearment?) introduced with Android 4.1 that includes good use of battery life and interface reaction time.
Magical: The app just works, like magic!
Delightful: The app just works, and it's wonderful!
If you don't already watch the weekly
App Clinic
and
Android Design in Action
, you should take some time to watch past episodes. They're all available on YouTube playlists from the Android Developers official account. I've linked to them below if you want to get started straight away.
App Submission
Apps are reviewed weekly and are already available in the Google Play Store. For apps with both free and paid versions, the paid version is selected for review. Developers can submit links to their apps under the appropriate category on the official
Trello board
. Self-nomination is encouraged. Board members vote on apps they would like reviewed, and those with the most votes are selected for upcoming shows. App category suggestions are also accepted. If you're not already a Trello user, you can log in with a Google Account.
Two Reviews for One Submission
Apps reviewed on
The App Clinic
often show up on
Android Design in Action
the following week. This second helping of advice -- which is design-centric -- gives developers even more to build upon for their next iteration. Careful review and application of insight gleaned from Android pros can greatly improve your chances of inclusion in the Pure Android Collection.
Futuristic Projections
The Pure Android Collection has a slow growth plan, with each new app to be carefully selected. I suspect this featured section will become part of regular app promotions on the Google Play Store homepage. Apps with the featured status will be seen and downloaded more often than others. Because of that, it makes good business sense to create a stellar app -- one worthy of being featured in the new collection. So get going already!