[caption id="attachment_3098" align="aligncenter" width="462"]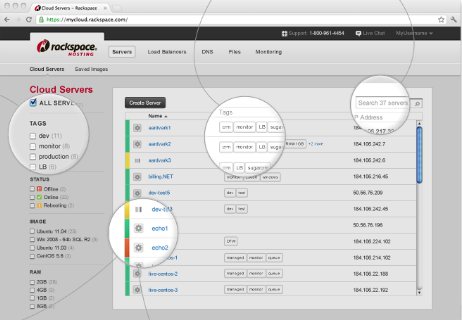 Rackspace's Cloud Control Panel offers filters, quick-glance status, action "cogs" for performing tasks, search, and tags.[/caption] Rackspace has launched its public cloud running on top of OpenStack, essentially cloud computing's version of Linux. With the launch, customers have unlimited availability of cloud databases and cloud servers running on top of OpenStack, managed by a new control panel. A new cloud customer that signs up with Rackspace today can automatically take advantage of OpenStack, while existing customers will be transitioned under their own timelines, according to John Engates, Rackspace's chief technology officer. Engates and Rackspace argue that OpenStack frees clients from vendor lock-in, which otherwise confines them to clouds operated by vendors such as Amazon. With OpenStack, customers can launch within Rackspace itself, or else take the software and run it within their own data centers. Rackspace helped develop the open-source OpenStack cloud controller, along with NASA, just over two years ago. Rackspace said that it had optimized its MySQL database service on top of infrastructure designed for the public cloud, and handles security, patching, and performance optimization. "The challenge with databases with cloud is that sometimes they don't perform well, and sometimes they don't perform consistently," Engates said. Rackspace claims that MySQL database performance will be 229 percent faster than that of Amazon's RDS,
based on its own testing
. Early access customers have been using the service since this spring. "What we've tried to do with cloud databases is build a purpose-built platform for delivering MySQL databases in the cloud," Engates said. "We built it to be highly redundant, so that we've got servers that have redundancy into them, storage with redundancy built into them, so that if you lose a disk, your database isn't out of business." With other solutions, clients have had to develop strategies to ensure that their data persists between reboots or failures. Spinning up a virtual server or database is accomplished via the new Rackspace control panel, which allows a customer to tag a server or site, as well as search by name or IP address. Naturally, the control panel can also provide real-time status updates on a user's infrastructure. The new control panel turns on whenever customers sign in. As far as the creation of new Cloud Servers is concerned, Rackspace claims that the process will be dramatically sped up: customers can launch as many as 200 Cloud Servers in 20 minutes, via an enhanced API that can handle requests to create new Cloud Servers 25 times faster. The default rate limits, which can be raised on a per account basis, process 20x more server requests per day. Early customers include SOASTA, which stress-tested the infrastructure used for the ongoing London Olympics. "The new Rackspace Cloud Servers began delivering business value to us and our customers almost instantly," said Tom Lounibos, chief executive of SOASTA, in a statement. "We were able to easily integrate them into our performance testing platform, CloudTest, and we have successfully spun up thousands of servers for real-world online and mobile app testing." Rackspace's roadmap includes a cloud monitoring service (currently in an early access program) capable of sending alerts to an admin's phone, computer whenever a site, port or protocol needs attention. That's on top of a preview of the ability to provision software-defined networks, which relies on the Nicira technology
slated for acquisition by VMWare
. Engates claims to have no knowledge of how VMWare's acquisition could affect that service, if at all. Rackspace will also allow customers to include additional block storage—either based on traditional rotating SATA drives or a premium SSD tier. Engates said that the tiers will be based on an "elastic price model," but declined to provide more details. The cloud monitoring service, SDN capabilities, and block storage will all be available to customers by the end of the year.
Image: RackSpace