John, a veteran IT project manager and software developer from California, has been looking for a permanent, full-time position for the last five months. And although he's submitted upwards of 50 resumes over the last two months alone, he's only received 10 call backs. Can John improve his approach? To find out, we paired him up with Karla Baierl, a hiring manager for information systems and consulting firm SysLogic in Brookfield, Wis. She critiqued John's resume in a video conferencing session, as part of Dice News pilot program where real hiring managers critique the resumes of Dice readers.
Our full series on John's resume critique:

Part I: Karla Baierl, Hiring Manager for SysLogic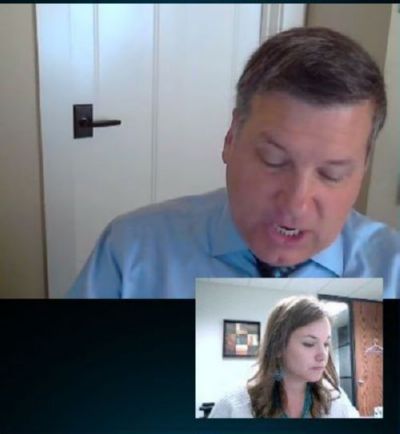 John's Job Search
John found himself looking for work after his most recent contract -- as project manager for a New Jersey technical company that serves the nuclear energy industry -- came to a close. Before that, he held a permanent, full-time position as a senior software engineer and systems, network and database administrator with a Las Vegas technology company. He lost the job in a company-wide downsizing. John took advantage of the company's outplacement services, and went as far as hiring a professional service to redo his resume. To date, the only feedback he's received on his resume has been from one prospective employer. "He said he was expecting two pages (as opposed to one) given the level of my experience," John says.
Deep Dive on John's Resume
Indeed, that was one issue that Baierl noted. In sizing it up, she pointed to top things he needs to consider fixing: Lack of an overall accomplishment list, lack of focus, and a poor format. Because John listed himself as both a project manager
and
a software developer, the resume created confusion over the type of position he was seeking. An overuse of fonts, bold-face type, italics, underlines and different type sizes made the document look more mashed up than professional. Here is Baierl's marked up copy. We've numbered Baierl's comments and expanded on them below:
The Details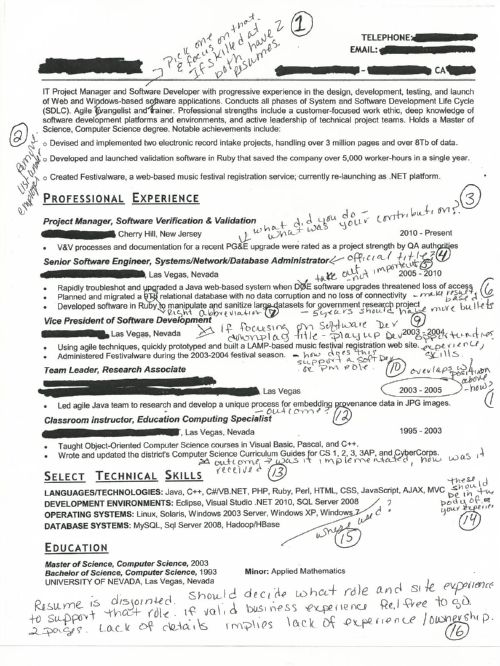 1: List yourself as Project Manager or Software Developer, but not both.
If you're skilled in both areas, have two separate resumes. Capture the prospective employer's attention with the summary, but don't go into great detail about your work history. The brief summary information you provide will be supported by your description of your professional experience. You want to entice the hiring manager to continue reading down the page to learn more about you.
2: Remove the bullet points from each job.
Instead, list those accomplishments under the relevant employers where they occurred.
3: Describe your specific contributions to the PG&E upgrade.
4: Is Senior Software Engineer, Systems/Network/Database Administrator an official title?
You should always use your official title. If they conduct an Internet search and find different titles for what you've done, a potential employer may think you're embellishing. Also, a software verification system may kick out your resume if it doesn't recognize the title.
5: 'DOE' is unnecessary, and acronyms can be distracting.
6: Note your accomplishments, and make the migration of the relational database results oriented.
7: Is 9Tb the right abbreviation for the size of the relational database?
"Terabyte" is TB and "terabit" is Tb.
8: With five years of experience, there should be a lot more information for your work in Las Vegas.
9: If you're seeking a position as a software developer, play up your developer experience and skills. But if you're focusing on a product manager position, downplay title of Vice President of Software Development.
10: How do these two bullets support either a software developer or product manager role?
11: These two time periods overlap.
It's important to explain that one of the two companies was a startup you founded as a weekend pet project. Your startup experience shows you likely touched many parts of the development process.
12: List the outcomes of your work.
What was the result of developing the unique process for embedding provenance data?
13: How were the updated computer science curriculum guides received?
Were they implemented, and what was the result? For example, you could rephrase this to read: "Rewrote the 20-year old curriculum to bring it up to current standards."
14: The programming languages should be listed with the particular companies where you put the skills to use.
Job candidates often create a laundry list of the skills they know, but often forget to list where and how they used them.
15: Same as No. 14, for your other technical skills.
16: Overall Review
The resume is disjointed. John should decide what role he is seeking in his next job and cite experience that supports that role. If he has valid experience, he should feel free to create a two-page resume. The lack of details in this one implies a lack of experience and/or ownership of the work.
RIP Resume
How did John react? "Karla was great," he says. "I need to detail my accomplishments and experiences in each of my jobs. And if I move my bullet point items to the job experience, my resume will be more cohesive." Expanding his resume to two pages is also among the things he plans to do based on with Baierl's advice - advice,we should note, that ran counter to the expensive resume writing service that John had previously used.