[caption id="attachment_5893" align="aligncenter" width="559"]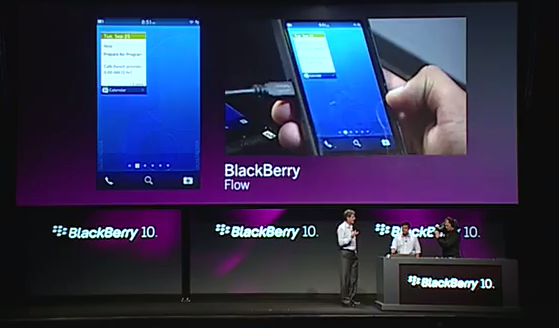 RIM CEO Thorsten Heins walks an audience through BlackBerry 10's feature set.[/caption] Does Research In Motion actually have a chance? According to new data from Gartner, RIM's BlackBerry OS currently stands in a distant third place among smartphone operating systems, lagging well Google Android and Apple's iOS. However, it's noticeably ahead of Bada (Samsung's mobile operating system), Symbian, and Microsoft's Windows Phone franchise. That comes despite RIM's market-share dipping from 11.0 percent to 5.3 percent over the course of the past year. During that same period, Symbian's share plunged from 16.9 percent to 2.6 percent, as Nokia largely abandoned the operating system in favor of Microsoft's Windows Phone. Bada climbed incrementally, from 2.2 percent 3.0 percent, and Microsoft's smartphone platforms rose from 1.5 percent to 2.4 percent. Android owns 72.4 percent of the market, followed by iOS with 13.9 percent. Of the various manufacturers producing Android devices, Samsung was dominant, and poses arguably the greatest competitive threat to Apple in the high-end smartphone market. "Both vendors together controlled 46.5 percent of smartphone market leaving a handful of vendors fighting over a distant third spot," Anshul Gupta, principal research analyst at Gartner, wrote in a Nov. 14 statement accompanying the firm's data. Heading into 2013, RIM finds itself in a peculiar position: although its sales are falling, the company is investing significant amounts of engineering, development, and marketing capital in the upcoming BlackBerry 10 platform, which it positions as capable of competing against the iPhone and Android on their own terms. If BlackBerry 10 indeed proves a hit, RIM could solidify that tenuous third-place position and begin something of a comeback. The new platform is scheduled to debut at the very end of January. However, it will face significant competition from Nokia, which finds itself locked in a similar death-struggle with the market. Nokia's latest slate of smartphones, which run the newly launched Windows Phone 8, have attracted solid reviews; moreover, the Finnish phone-maker can look to Microsoft for some help with marketing and promotion (despite rumors of Redmond developing its own "hero" Windows Phone). RIM also faces erosion in its traditional audience of business and government users, thanks in large part to the burgeoning BYOD ("Bring Your Own Device") trend.
In a recent interview with The Washington Post
, RIM CEO Thorsten Heins acknowledged that the BYOD trend had damaged the company's prospects. That places still more pressure on the company to position BlackBerry 10 as a line of superior consumer devices, even as it faces intense rivalry on that front from the likes of Apple and Samsung.
Some analysts feel that BlackBerry 10 is already doomed
—but that's not going to stop RIM from trying to win its big bet.
Image: RIM