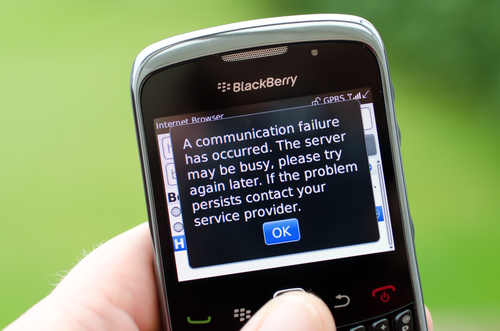 Is Research In Motion in a death spiral? RIM CEO Thorsten Heins doesn't seem to think so: in a new interview with
The Telegraph
, he suggested that BlackBerry smartphones represent a "secure, entrenched stable business" and that the upcoming BlackBerry 10 will "see us through the next ten years." He added: "We are not in a trough." RIM is apparently "investigating" whether to license the BlackBerry OS to other manufacturers, who would then build their own devices around the software. What's sparking a fair bit of buzz around the Internet, though, is Heins' admission that RIM at least considered dumping BlackBerry in favor of Android, and eventually decided against it. "If you look at other suppliers' ability to differentiate, there's very little wiggle room," he told the paper. "We looked at it seriously—but if you understand what the promise of BlackBerry is to its user base it's all about getting stuff done." In the end, RIM stuck with BlackBerry OS and its emphasis on productivity over games or content consumption. RIM's decision to avoid Android mirrors that of Nokia, which apparently considered and then rejected Google's mobile operating system in favor of Windows Phone. But while RIM and Nokia seem to feel that their choice of OS allows them to stand out in a sea of Android devices, the companies' respective market-share leaves the wisdom of their decisions up for debate:
the latest numbers from comScore
feature RIM's market-share falling from 3.9 percent to 3.8 percent for the three-month period ending June 2012, while Windows Phone fell from 1.4 percent to 0.9 percent. That continued slide is potentially a real problem for Nokia, which also abandoned its homegrown operating systems (including Symbian) in favor of Microsoft's platform. The Finnish phone-maker recently kicked off a major marketing campaign in the U.S., assisted by AT&T and centered on the Lumia line of high-end smartphones. Meanwhile, Apple's iOS and Google Android continue their battle to dominate the mobile market. RIM clearly hopes for a rebound with BlackBerry 10 that will allow it to become a third titan in that arena. A portion of that rebound will involve
convincing third-party developers
to create cloud-based apps for the platform.
Image: sgm/Shutterstock.com