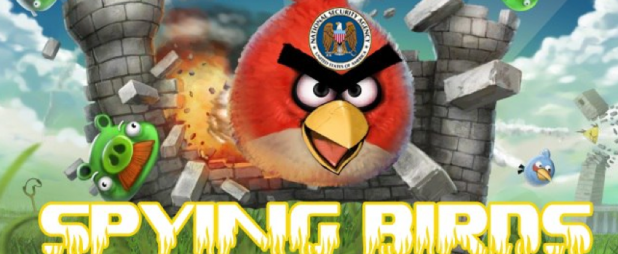 Rovio Entertainment, the software company behind the mega-popular "Angry Birds" game franchise, denied in an official statement that it knowingly shares data with the NSA, Britain's GCHQ, or any other national intelligence agency. But that didn't stop hackers from briefly defacing the Angry Birds' Website with an NSA logo and the title "Spying Birds." (Thanks to
Zone-H
for the cached image.) Rovio's troubles began
with a The New York Times article
, published Jan. 27, that suggested the NSA and GCHQ had installed backdoors in popular apps such as Angry Birds, allowing the agencies to siphon up enormous amounts of user data. The
Times
drew its information from government whistleblower Edward Snowden, who has leaked hundreds of pages of top-secret documents related to NSA activities over the past few months. "The alleged surveillance may be conducted through third party advertising networks used by millions of commercial web sites and mobile applications across all industries," Rovio wrote in a
statement on its Website
. "If advertising networks are indeed targeted, it would appear that no internet-enabled device that visits ad-enabled web sites or uses ad-enabled applications is immune to such surveillance." The company pledged to evaluate its relationships with those ad networks. The
Times
article suggested that the NSA and GCHQ are capable of drawing personal information such as age, gender, location, marital status, sexual orientation, ethnicity, and other data-points from its app surveillance. The controversy is unlikely to dampen enthusiasm for the Angry Birds franchise, which has enjoyed hundreds of millions of downloads across a multitude of platforms. It could, however, add momentum to continuing discussions about the NSA's reach into peoples' lives. Earlier in January, U.S. Attorney General Eric Holder made Snowden (currently exiled in Russia) a peculiar offer: plead guilty, and the U.S. government would consider how to handle his case. "Were he coming back to the U.S. to enter a plea, we would engage with his lawyers," Holder told an audience at the University of Virginia,
according to The New York Times
.
Whether or not Snowden takes some sort of deal from the U.S. government, it's clear that his leaks have spurred some degree of reform. On Jan. 17, President Obama announced a series of changes to how U.S. intelligence services collect data, including one that prevents the NSA from storing phone metadata on its own servers.
But d
uring his speech, Obama refused to talk much about Snowden. "I won't dwell on [his] actions or his motivations," he told reporters.
Image: Zone-H (cached)