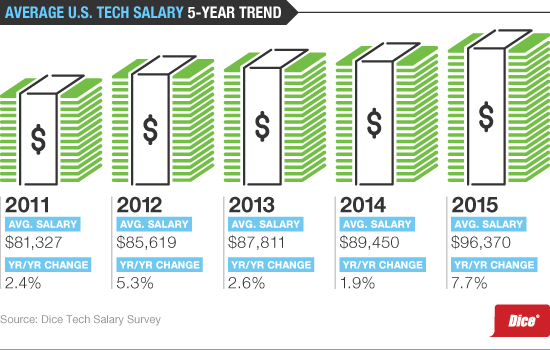 Average technology salaries in the U.S. saw the biggest year-over-year leap ever, up 7.7 percent to $96,370 annually, according to the annual salary survey by Dice. Bonuses and contract rates also rose from 2014, and tech salaries in seven metro areas reached six-figures for the first time since the survey began more than a decade ago.
The wage hikes paint a picture of an overall solid environment for technology professionals with 62 percent earning higher salaries in 2015. Almost half of respondents reported a salary increase as a result of upward mobility at the same company, with 38 percent receiving a merit increase and 10 percent receiving an internal promotion. The second most common reason for a rise in salary was a result of the professional changing employers (23%).
Over time, bonuses have become more commonplace in the tech industry. The average bonus was $10,194, a seven percent increase from 2014. In 2015, 37 percent of technology professionals received a bonus, unchanged from last year, however up from 2009 when 24 percent earned the extra payout. More experienced tech professionals were more likely to receive a bonus as well as those in the banking/financial, telecom, hardware, entertainment/media and utilities industries.
Bonuses were not as prevalent with technology professionals who had less than two years of experience. However, newer tech pros saw rises in their paychecks. Average salary increases were greatest among new technology workers (1 to 2 years' experience), suggesting there is wage pressure for entry-level technology jobs, and employers are willing to pay for fresh talent.
"The competition for tech talent today is undeniable. Demand for skilled talent and low unemployment rates for tech professionals aren't making the hiring landscape any easier. Employers realize offering competitive pay is a necessity," said Bob Melk, President of Dice. "What's promising is the tech industry recognizes the need to fill open seats as well as to reward tech talent for their hard work."
Contract workers saw a rise (5%) in hourly compensation, with contractors earning $70.26 per hour. Tech contractors working in industrial/chemical, professional services, healthcare and utilities/energy segments were paid higher than overall tech contract rates.
Technology professionals are becoming more satisfied with their pay with 53 percent noting satisfaction compared to 52 percent last year. Plus tech professionals' confidence in job prospects remained high with 67 percent claiming that they could find a favorable new position. More than a third (39%) intend to change employers in the upcoming year.
"Our survey shows many tech pros seem to be satisfied with their salaries," said Melk. "But that still leaves a portion of tech pros who are less satisfied with their compensation. Now it's time for highly skilled tech professionals to ask for more or find new jobs. Opportunities await."
Six-Figure Salaries in Top Metros
Average salaries for tech professionals reached the six-figure mark in seven markets for the first time in the annual study. Already posting average salaries over $100,000, tech pros in Silicon Valley were again the highest paid in the country. Other top-earning markets spread from coast-to-coast and included a not traditionally-recognized tech city, Minneapolis.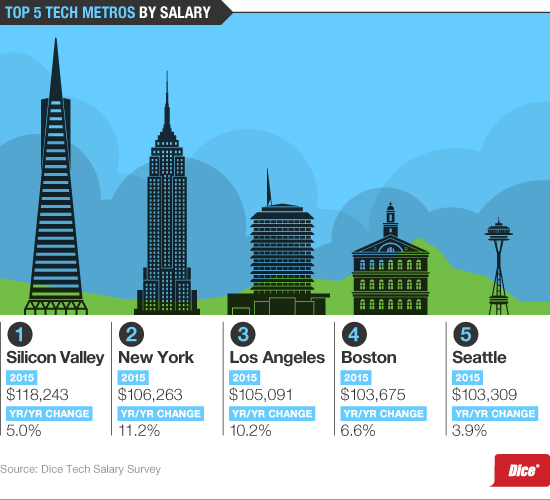 Top Paying Skills
As has been the case for several years, big data and cloud represent the majority of this year's highest earners. Newcomers such as HANA, OpenStack, CloudStack and Puppet showed for the first time in the top 10 highest paid skills.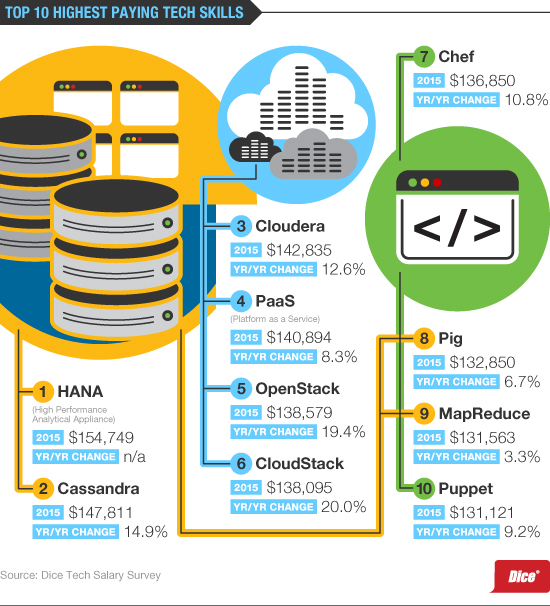 "As more businesses look to build out their tech infrastructures, employers need solutions to securely store, manage and process large sets of data," said Melk. "Professionals with big data or cloud expertise continue to serve as high priority candidates. Profitable companies today understand employing tech professionals who understand business goals and strategic priorities are more than employees, they're partners in achieving success."