[caption id="attachment_4608" align="aligncenter" width="600"]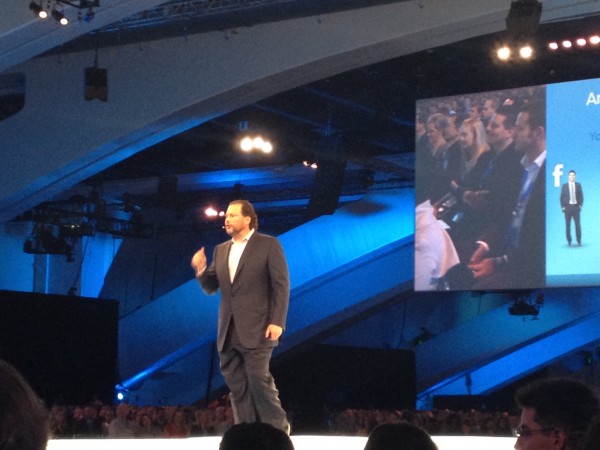 Salesforce CEO Marc Benioff onstage at the Dreamforce '12 conference.[/caption] SAN FRANCISCO—Salesforce CEO Marc Benioff took the stage to kick off the Dreamforce '12 conference at the Moscone Center here, pushing a vision of the public cloud as the best foundation for modern business processes. His keynote address started in a way familiar to anyone who's seen a Benioff speech over the past few years, with a brief description of how the computing world has evolved from mainframes to PCs and from there to a more mobile-centric paradigm centered on the cloud. As he waded off the stage into the crowd, he launched into how a "social revolution" is changing both the computing world and society at large. "This is the most exciting thing that's happened to our industry," he said. "How many of you use social media or social networking or some aspect of social computing today in your business?" Nearly every hand in the vast auditorium went up. "It's the fastest growing segment of our industry," he said. "Nothing touches social in our industry." CEOs believe that conversations on social networks are one of the top ways for companies to engage with customers, he added, citing an IBM CEO study from 2012. Social interactions with coworkers, customers, and suppliers are altering the DNA of business itself. In light of that, Salesforce is "doubling down," in Benioff's words, on this social aspect of business. "This solidifies our vision, what we're doing, why we're here," he said. The hundreds of hands raised in response to Benioff's earlier question indicates that many businesses are, indeed, undergoing a "social" revolution, with their operations touched in some way by Facebook, Twitter, Google Plus and similar services. But for Benioff, the interaction extends beyond people to machines and products. In a lengthy part of the keynote, he described how General Electric asked him to give a presentation on how the industry giant could evolve. He proposed something called "GE Share," in which employees interacted not only with coworkers and customers, but also with the products under development. A GE engineer could "collaborate" with an engine via status updates, before bringing in other engineers, end users, and others to discuss and network over the data. But that's a vision of the future still very much in development. For the here-and-now, Salesforce revealed some of its latest products:
Salesforce Touch
Salesforce is introducing a handful of new products at Dreamforce, including Salesforce Touch, touted as the first "fully mobile sales application in the world." It's designed to offer easy access to Salesforce data on a variety of mobile devices, having been built on HTML5. The app offers views in Chatter feeds, contacts, accounts, company data-points such as inventory, and the ability to capture signatures (presumably allowing sales reps to finish off a deal right at the boardroom table).
Chatter Communities for Partners and Data.com
That wasn't Salesforce's only shiny new toy: It unveiled Chatter Communities for Partners, allowing companies to create multiple private communities around particular business processes, and Data.com Social Key, which combines social data such as Tweets with "traditional" business information (i.e., phone numbers) to give a more holistic view of potential customers. Both services will reach the general availability milestone in the second half of 2013.
Work.com
Salesforce also announced
Work.com
, a social performance-management platform for Human Resources employees. What does that actually mean? Human Resources interactions start looking more like a social network: special "custom badges" posted to employees' social profiles on Salesforce in exchange for career achievements, more real-time feedback and interaction, the ability to view colleagues' goals and feedback, and even Amazon.com gift cards and redeemable points in exchange for meeting and exceeding performance goals.
Marketing Cloud
Salesforce used the keynote to whip the curtain back from its new Marketing Cloud, the apparent culmination of its earlier acquisitions of
Buddy Media and Radian6
. Benioff introduced the platform by saying that CMOs will end up spending more on technology than CIOs within a few years. Marketing Cloud will allow companies to manage presence across social channels, measure engagement, and target with social advertising. Although Benioff and his executives offered only brief glimpses of the actual software, it presumably retains some of the key aspects of Buddy Media's platform, which included the ability to create and manage customized content on social networks such as Facebook and Twitter. Salesforce doesn't exactly have an open field when it comes to social marketing platforms. Earlier this year, archrival Oracle entered into an agreement to acquire Vitrue, described as a "cloud-based social marketing and engagement platform." Other IT giants, including Microsoft, have baked social networking into their product lines. Benioff and his crew face some sizable competition in the social enterprise space. To hear them talk about it at Dreamforce, though, they're on the cutting edge of the future.