Samsung
is aiming to give Android developers another reason to build their business or career around the technology titan's mobility ecosystem. On Wednesday, Samsung Telecommunications America launched the Samsung Solution Exchange, which will house business-related apps created by Samsung and third-party developers.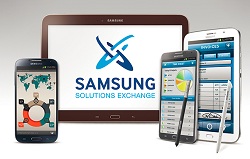 The company is aiming to bolster the ecosystem for its new line of Samsung for Enterprise (SAFE) devices. It also released its SAFE SDK to its exchange members, which includes more than 1,000 enterprise APIs. Samsung touts its Solution Exchange as helping enterprise companies succeed in an era of mobility.
Taking a Deeper Dive
The Samsung Solution Exchange features a curated portfolio of apps, which includes:
Holistic vertical solutions for industries including healthcare, financial services, government, transportation, retail and education.

Differentiated mobile professional solutions that address specific line of business challenges both in and out of the office.

A range of mobile workforce solutions designed to help sales and service organizations address challenges of mobile workforce management.
Third Party Developer Career via Samsung
Under the terms of the Samsung Apps Seller Office, third party developers can keep 70 percent of the sales from their downloaded apps and Samsung gets 30 percent. Even though the company is touting its new Samsung Solution Exchange, it hasn't sweetened deal on downloads for developers like it previously did for game developers. Earlier this year, Samsung provided a deal to game developers who participated in its
100% Indie developer initiative
. Samsung and Electronic Arts' Chillingo allowed games developers to keep 100 percent of the proceeds from their sales for a designated period after entering the games into the Samsung Apps ecosystem.
Developers will receive 100% revenue from March 4, 2013 – September 3, 2013, 90% revenue share from September 4, 2013 – March 3, 2014, 80% revenue share from March 4, 2014 – March 3, 2015, and after March 4, 2015 on Samsung Apps, developers will receive 70% revenue share. Revenue share will be net of any applicable payment gateway and/or carrier charges.
Although Android developers creating enterprise apps may not get as good of a deal as game developers contributing to the Samsung app ecosystem, they can take pleasure in knowing they are part of an ecosystem that is growing at a faster clip than
Apple's
iOS ecosystem. According to
comScore's three-month moving average June figures
, Samsung smartphones grabbed 23.7 percent of the market share, up 2 percentage points from the previous three-month period. Apple, meanwhile, held 39.9 percent of the smartphone market, rising 0.09 percentage points during the same period.