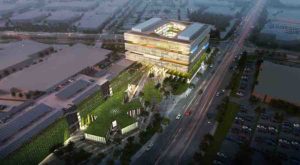 Samsung's
planning to do a lot of hiring in Silicon Valley as it prepares to open its new $300 million R&D Center in San Jose, by the summer of 2015. Indeed, the local talent pool is one of the reasons the company decided to locate the center there. "Samsung strategically determined the best pool of talent in the U.S. would be in the Bay Area," Bob Brennan, senior vice president of its Memory System Application Lab, told
Business Insider
. "We found that investment in Silicon Valley brought back some unique value to the business."
Click here to find more R&D jobs in San Jose.
Brennan says the proximity of Silicon Valley's "technology pulse" can aid R&D by fostering collaboration and new avenues of thought. The company hasn't indicated how many people it might hire for the facility, but Business Insider said Brennan hinted "at a massive hiring spree." Currently, he's "hiring like crazy" in the memory business, he said: "Top Ph.Ds and top talent in the industry as fast as I possibly can." Last year,
Gizmodo
reported the facility will be home to 2,000 employees, though it's not clear how many of those would be new hires. Business Insider notes that Samsung spends more money on R&D than any other tech firm, but still runs behind
Apple
and Google on lists of the most innovative companies. The San Jose facility is in addition to the 10 R&D labs Samsung already operates in the United States. Seven of those are in Silicon Valley, employing some 500 researchers.
Upload Your ResumeEmployers want candidates like you. Upload your resume. Show them you're awesome.
Related Articles
Image: Samsung