[caption id="attachment_8528" align="aligncenter" width="591"]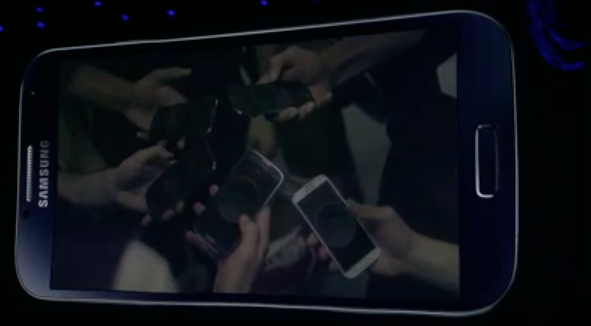 Samsung's Galaxy S4, as seen during the company's Radio City Music Hall unveiling.[/caption] In past years, Samsung's product-launch events were generally low-key, often hosted at the company's store in New York City's Time Warner Center. A few executives would take the stage, show off the latest tablet or smartphone, and then the assembled tech media would stampede for the nearest tray of free food. Samsung's March 14 event for its Galaxy S4 smartphone, on the other hand, was supersized. The company rented out the Radio City Music Hall and, in view of hundreds of tech reporters and other audience members, tossed pretty much everything short of a literal kitchen sink onstage: tap-dancing moppets, orange-tanned actors, and executives who talked, danced, shouted and sang their way through the Galaxy S4's various features. And what sort of features were apparently worth such a Broadway-style production? Although Samsung didn't mention the word "Google" at any point during the presentation, the latest Galaxy smartphone runs Android 4.2 (also known as "Jelly Bean") and boasts a 5-inch Super AMOLED display (441 ppi). It has the requisite front-and-rear cameras (2 megapixels for the former, 13 for the latter). The 1.9GHz quad-core processor—or, depending on the market, a 1.6GHz octa-core one—will power a variety of software features, including:
S Health:
This app jumps on the whole "use a mobile device to monitor your fitness" bandwagon, leveraging the smartphone's sensors (and third-party accessories) to track footsteps, heartbeat and more.
Smart Pause:
When watching videos, looking away from the screen—yes, the Galaxy S4 can track your eyeball movement—will pause the action; looking back will make it resume.
S Translator:
As demonstrated onstage, this app allows the user to speak a phrase into their Galaxy S4 and have it translated (and spoken) in another language.
Dual View:
Users can utilize both cameras at once with this smartphone equivalent of picture-in-picture.
S Voice Drive:
A driving app that relies on verbal cues. Samsung's song-and-dance played all this up, of course. But how does the Galaxy S4 match up against its most prominent competition, Apple's iPhone 5? It's certainly not the lopsided blowout that some people impulsively proclaimed on Twitter during the event, but Samsung's hardware is impressive: if you match the respective specs (
and PC Mag has a nifty chart for that purpose
), it's clear that the Galaxy S4 has a better processor, sharper-resolution screen (at least based on pixels-per-inch), higher-megapixel cameras, and a larger screen. On the other hand, the Galaxy S4 weighs more than the iPhone, and both devices offer the same amount of integrated storage. Samsung executives haven't revealed the rated battery life of the S4, but it might have some trouble matching the iPhone 5's almost nine hours of power. Video-camera resolution is nearly the same between the two devices. Again, that's not to say the Galaxy S4 isn't a premium device; but it's not a Ferrari to the iPhone's AMC Gremlin. Nonetheless, Apple is clearly on the offensive: a day before Samsung unveiled the Galaxy S4, Apple marketing head Phil Schiller held an interview with Reuters in which he took some solid whacks at his company's rival. "And that extends to the news we are hearing this week that the Samsung Galaxy S4 is being rumored to ship with an OS that is nearly a year old," he said,
according to the newswire
. "Customers will have to wait to get an update." It remains to be seen whether Apple launches other salvos against Samsung's hull. In the meantime, Cupertino faces something of a challenge: to release a new iPhone and version of iOS that allows it to re-seize the initiative. That means the next iPhone can't be an iterative upgrade; the pressure is on to radically upgrade the device's hardware and software specs. Game on.
Image: Samsung