[caption id="attachment_5472" align="aligncenter" width="500"]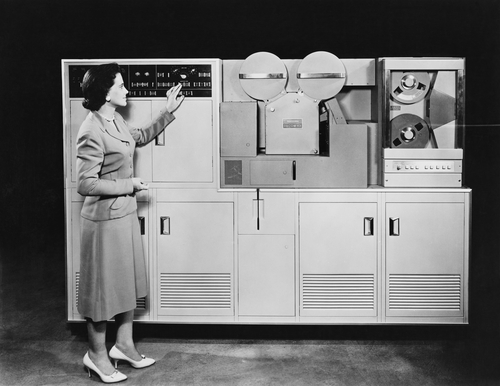 Crunching massive amounts of data has evolved way past this point.[/caption] SAP is taking a new step into the Big Data game with a new analytics bundle based on its HANA in-memory database technology, announced at the O'Reilly Strata Conference + Hadoop World conference in New York City. The bundle layers SAP Sybase IQ server, SAP Data Integrator software and SAP Business Objects business-intelligence functionality atop HANA. SAP is positioning that combination as an ideal way for businesses to speed up Hadoop-related analytics by leveraging in-memory computing. In theory, those companies will have the ability to merge Hadoop with their B.I. and data-warehousing infrastructure in a number of ways. "Our goal is to help organizations build a high-performance enterprise data warehouse that combines the power of real-time insights with Hadoop processing frameworks," said Steve Lucas, global executive vice president and general manager, Database & Technology, SAP. "With new 'big data' offerings delivering information at unprecedented speeds, customers can uncover and harness new measurable signals from any data source for critical business insights." SAP is working with a number of big players in the Hadoop world, including Cloudera and Hortonworks. Given the increasing popularity of Hadoop among companies with a lot of data to store and analyze, it's no surprise that SAP would attempt to unify the framework with HANA, which increasingly undergirds its portfolio. Recently SAP whipped the curtain back from HANA Cloud, which will include SAP HANA AppServices for creating applications through a mix of HANA, Java and other services (Java-based applications will come courtesy of SAP NetWeaver Cloud). Research firms have attributed much of this interest in Hadoop to the cost savings and flexibility inherent in open-source software. Hadoop has resulted in platforms such as HBase, a non-relational distributed database modeled on Google BigTable and run atop HDFS. The O'Reilly Strata Conference + Hadoop World conference has seen a number of companies announce big Hadoop-related initiatives: Cloudera, for example,
unveiled Impala
, an Apache-licensed query engine for data stored in HDFS (Hadoop Distributed File System) and HBase; Microsoft announced Windows Azure HDInsight Service and Microsoft HDInsight Server for Windows, which bring additional Hadoop support for Windows Azure and Windows Server.
Image: Everett Collection/Shutterstock.com