[caption id="attachment_17218" align="aligncenter" width="600"]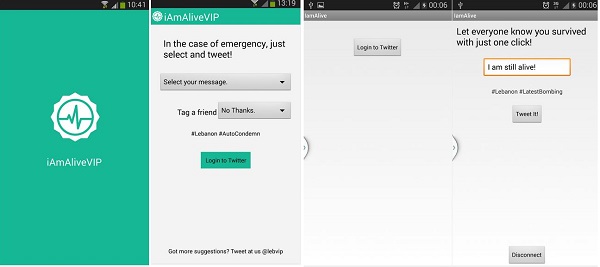 'I Am Alive' alerts loved ones; the VIP version issues canned condemnations of bombings.[/caption] Mobile apps tend to have cutesy names and happy icons. Not the newest one coming from 26-year-old Lebanese student Sandra Hassan, who released the app
"I Am Alive" Jan. 21.
The ultra-simple app has only two screens and two buttons. The opening screen has a button that will automatically log in to Twitter. The inside screen Tweets
"I am still alive!"
plus the hashtags #Lebanon #LatestBombing Hassan wrote the app as a protest against the deteriorating security situation in Lebanon, which has seen increasing violence as conflict escalates between government troops and heavily Sunni Muslim insurgents. Lebanon was relatively untouched until November, when a pair of suicide car bombs went off outside the Iranian Embassy in Beirut, killing 22 and injuring 140. A Sunni jihadist group claimed responsibility,
according to the BBC.
On Jan. 2, a 19-year-old engineering student drove a car bomb into the Shiite suburb of Beirut,
according to the Christian Science Monitor.
The Lebanese government and security services have come under fire for not doing enough to stop the attacks or respond afterward. Immediately after a bomb blast, phone lines are often clogged as family members check on the safety of missing relatives, a situation made worse by what protesters call an unforgiveable lack of response or information from the government. Hassan wrote and posted "I Am Alive" on the Google Play app store as a satiric protest, but 4,000 people have already downloaded the app. Dozens have used it after actual bomb attacks, surprising Hassan. "I didn't expect that people would actually start using it," she told the BBC. When phone lines are clogged, comparatively tiny Twitter text messages often get through, delivering a practical advantage despite the satiric intent of the author. Some Play users have criticized Hassan for the morbidity of the joke, but others in Egypt, Pakistan and other places embroiled in conflict have asked her to extend the app there, as well. Others have asked her to include Facebook updates as well as Twitter. A follow-up app writted by Hassan and fellow blogger Myra El Mir, who posted it Feb. 11, is far more critical. "IAmAliveVIP" features a pull-down menu with a list of canned responses criticizing the latest bombing in Twit-friendly terms.
Image: Sandra Hassan/Google Play