[caption id="attachment_11738" align="aligncenter" width="600"]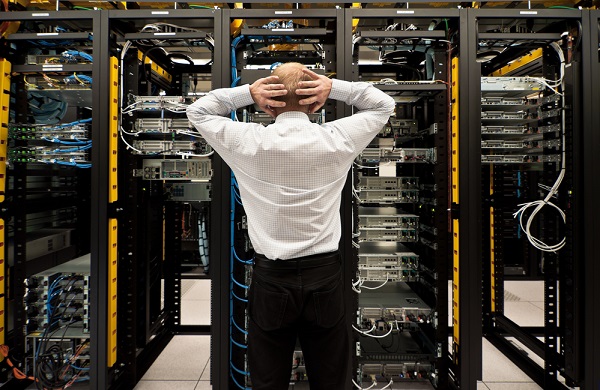 Datacenter headaches.[/caption]
The cranky, complex, labor-intensive model of traditional datacenter design and operations may be on the way out, according to new research into the buying intentions of major corporations and recommendations by leading tech analysts.
Traditional methods of provisioning, managing and monitoring servers, storage, networks, applications and other corporate systems are too labor-intensive, expensive and rigid to make the cut in a computing universe increasingly dominated by virtualized computing resources, public and private clouds and the increasing pressure to cut operations costs while improving IT services, according to a Gartner analyst. "Software-defined data centers and underlying infrastructure is an inevitable part of our future," Wolf wrote in a preview to next week's VMworld conference in San Francisco. "The benefit to [software-defined network and datacenter] architecture is that it makes it far easier to move workloads between data centers or even to new hardware within a data center. The days when hardware maintenance and replacement require application downtime are reaching an end. End-user companies agree, according to recent reports that predict the market for software-defined datacenter (SDDC) and software-defined networking (SDN) technology will explode during the next few years. Sales of SDN products, for example, are expected to grow at almost 62 percent per year between 2012 and 2018, reaching a global total of $3.52 billion by 2018,
according to a report published by Transparency Market Research.
Though end-user companies tend to be slower to adopt new datacenter-automation frameworks, 35 percent of sales of SDN products during 2012 were to enterprises, rather than to telecom or cloud-service providers, according to the report. Large companies are adopting SDN to make their network infrastructures more flexible and cost efficient, and to reduce the time and effort of reconfiguring networks to incorporate internal and external cloud services. The biggest chunk of sales from SDN products comes from those designed to monitor and provision cloud services, which fits with the report's finding that cloud-service providers are the biggest buyers of SDN technology. The second-largest (and fastest-growing) segment of the SDN market, however, is in software-defined switching, which will be driven by the increasing need of enterprise companies to design, reconfigure, secure and monitor networks that incorporate multiple datacenters and external service providers, the report found. Managing networks is not the only part of the challenge, however. The ability to consolidate multiple datacenters and combine computing resource pools in ways that allow for load-balancing among datacenters, as well as between servers, is becoming more important for large companies trying to use virtualization to cut costs and make their IT infrastructures more flexible, Wolf wrote: "In these emerging architectures, the ability to move workloads between data centers as needed to balance the load between them will also be critical – and will facilitate further demand for software-defined infrastructure." The market for that type of datacenter-virtualization and automation is also expected to explode during the next few years, from an estimated $396.1 million this year to $5.41 billion by 2018,
according to an Aug. 7 report from market researcher MarketsandMarkets.
The driving factor in that growth (an average of 68.7 percent per year) is the increasing complexity and scale of modern datacenters, which require more automation, resource pooling and integration with cloud platforms and other external sources to operate effectively, the report found. The ability of SDN and SDDC products to abstract the control of datacenter resources from the hardware underneath can cut operations costs by automating much of the effort of configuring and monitoring IT resources. Another major driver for adoption of SDN and SDDC, especially for enterprise customers, is the "inherent capability of interoperability which enables solutions to get implemented on any hardware irrespective of the vendor or manufacturer," the MarketsandMarkets study concluded. "The future adoption of SDDC is expected to be in heterogeneous environments and hybrid clouds, with more focus on software defined security."
Image: Creativa/Shutterstock.com