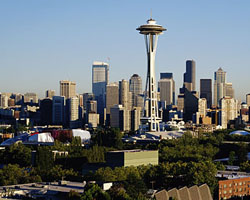 Übermind Moves Into New Seattle Headquarters:
Mobile app developer Übermind moved to larger headquarters to accommodate its continued growth. The company employs about 150 people here and is looking to hire 50 more by the end of year. It's looking specifically for developers and designers with mobile experience.
Geekwire
AllRecipes.com Acquires YouTube Channel:
AllRecipes.com expanded its food universe with the acquisition of Food Wishes, a recipe channel which the company says has the most-viewed collection of videos on YouTube. Allrecipes.com is a 14-year-old Seattle company that has 17 websites, nine mobile apps, and 13 eBooks in 23 countries and 11 languages.
TechFlash
HTC Acquires Dashwire:
HTC's moved into the cloud by purchasing locally based Dashwire for $18.5 million. HTC hopes the acquisition will allow it to better compete with other mobile services by allowing users to synchronize their photos, contacts and videos online.
Mobiledia
Cloud Startup Seeks Seattle Presence:
Apprenda is looking to open a Seattle office sometime soon for business development purposes and to lure product development talent. Since the company's product targets companies that use Microsoft's .NET framework, it hopes to tap into the region's Microsoft knowledge base.
Xconomy
Amazon Launches Kindle Cloud Reader:
Amazon wants to bypass Apple's App Store subscription fees with its
new HTML5-based ebook app
, which provides access to Kindle content and its Kindle Store. Amazon isn't the first to turn to HTML-5 to bypass Apple. Recently, the Financial Times created an app to do so as well.
InformationWeek
Zulily Takes On Groupon: Zulily, the latest startup in the crowded online deal marketplace, is finding success by targeting daily deals for mothers. In the past 18 months the company has had four different offices because of growth, and recently received $43 million in funding. Xconomy
Facebook Seattle Has a Birthday: Facebook's Seattle headquarters is officially a year old. For a present, it's getting another floor in its downtown office building. The office is now home to 50 engineers, and the new floor creates room for about 30 more. Facebook plans to lure the newbies away from Microsoft, Google, Amazon and area startups. Seattle Times