Twitter has leased 16,000 square feet in Seattle's 30-story Century Tower in what's described as its "first major office presence in the Seattle market." Although the micro-blogging site
has had staff in the Emerald City
since its April 2010 acquisition of Cloudhopper, it's contended itself with leasing space near Pike Place Market from a flex-workspace provider.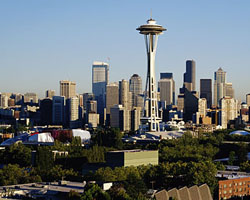 If laid out in a fashion similar to other tech companies, the new office could
provide space for 100 workers
. The company hasn't said how many workers it has in the city, though they reportedly include an engineering team. At the moment, the company lists only one open position in Seattle. Though the area is home to a gaggle of tech companies, including
Amazon
, Facebook and Groupon – not to mention
that behemoth
in Redmond – they tend to take offices outside the city core. That could be changing. NBC News Digital, formerly MSNBC, plans to move into Seattle's tallest building, the Columbia Tower, later this year. Disney Interactive Media Group and online real-estate marketplace Zillow also are moving downtown. Though it's been the
target of hackers
this week, Twitter on Wednesday announced
plans to update its site and mobile apps
to make it easier to follow conversations outside the site. It also acquired Trendrr, a company that
tracks social media engagement
around TV content, and poached former Ticketmaster president Nathan Hubbard in a bid to
become a shopping destination
.