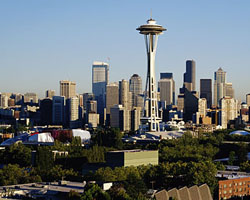 Seattle Tech Leaders Brainstorm Tech Job Growth:
How can technology professionals make the Seattle startup ecosystem stronger? The Startup Foundation held a brainstorm session with the city's technology community to brainstorm this topic and to discuss ways to make it easier for business owners to build area-based companies. Entrepreneurs, venture capitalists, non-profits and Microsoft representatives pitched various concepts they felt would benefit the community, like creating a startup weekend and developing programs that support local technology.
Geekwire
Amazon Seeks to Make a Deal with California:
Amazon is offering to build at least two distribution centers in California and hire as many as 7,000 workers. But only if lawmakers back away, at least temporarily, from trying to force the Internet giant to collect sales tax on purchases made by customers in the state. Amazon also promises to invest as much as $500 million in the new facilities.
Seattle Times
DOJ Attempt to Block AT&T Merger with T-Mobile Necessary:
The lawsuit by the U.S. Department of Justice seeking to block the proposed merger between AT&T and T-Mobile is necessary to keep adequate competition in place, some believe. The complaint by the DOJ says T-Mobile is "an independent, low-priced rival" to the other carriers, and that "even within the past few months [T-Mobile] had been developing and deploying 'disruptive pricing' plans."
Seattle Times
Seattle Needs to Do More to Maintain Young Talent:
While the University of Washington is creating programs to help local entrepreneurs, it will take a community-wide effort to make sure that the region does everything it can to hold onto the best and brightest.
Geekwire
Microsoft Sued for Tracking Mobile Users:
A new lawsuit filed in a Seattle federal court alleges Microsoft tracks the location of its mobile customers -- even after users request that the software be turned off. The lawsuit cites a letter Microsoft sent to Congress that said it only collects geolocation data with the express consent of the user.
New York Times
Viableware Raises Funds:
Viableware, a startup that designs hardware and software products to eliminate credit and debit card information theft, has raised $1 million in equity money. The company also plans to raise an additional $3 million.
TechFlash
Seattle Adds Thousands of New Jobs:
Seattle gained 36,600 jobs in the past year, which was the seventh-highest job gain in the U.S. This comes from the U.S. Bureau of Labor Statistics. In all, 86 of the nation's 100 biggest markets added private-sector jobs during the past year.
Puget Sound Business Journal