[caption id="attachment_6565" align="aligncenter" width="561"]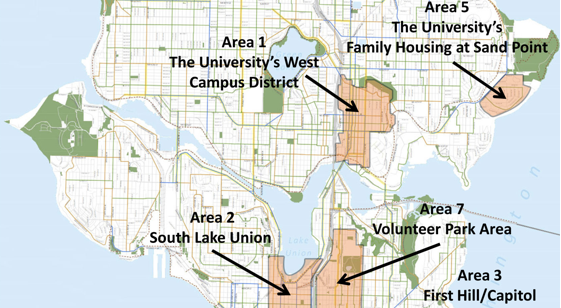 Seattle's vision for a citywide high-speed network begins with a demonstration project in 12 neighborhoods.[/caption] In November,
Google began connecting homes in Kansas City
to its Google Fiber high-speed broadband network. That the experiment could reap big benefits for the city is a fact not lost on the government of Seattle—which has entered into an agreement with broadband developer Gigabit Squared. Under the terms of that agreement, Gigabit Squared will "develop and operate an ultra high-speed fiber-to-the-home/fiber-to-the-business broadband network,"
read a post
on the Seattle government's Website. "The plan will begin with a demonstration fiber project in twelve Seattle neighborhoods and includes wireless methods to deploy services more quickly to other areas in the city." The project will involve three components: First, high-speed fiber to 50,000 homes and businesses in those 12 neighborhoods, connected together with excess capacity from the City's own fiber network (the city anticipates speeds "up to 1,000 times faster than the typical high-speed connection"). Second, a dedicated gigabit broadband wireless umbrella, based on fiber transmitters atop 38 buildings across the city, and capable of beaming speedy Internet to multifamily and houses across Seattle. Third, the project "will provide next generation wireless cloud services in its 12 neighborhoods to provide customers with mobile access." Seattle's reasons for pursuing the initiative are delineated on a project Website,
Gigabitseattle.com
. For local businesses, faster Internet will (at least in theory) lead to a more rapid pace of collaboration and innovation, boosting their competitive profile; for residents, it's more of a quality-of-life issue—who
wouldn't
want the ability to download every episode of
Homeland
at high speeds. Seattle is also touting the community angle, arguing that high-speed Internet access can lead to government efficiencies, better public health and safety initiatives, and economic development. Those are roughly the same arguments Google made with regard to Google Fiber's Kansas City deployment. "Gigabit speeds will get rid of these pesky, archaic problems and open up new opportunities for the Web," read a note posted on the
Google Fiber Blog
this past summer. "Imagine: instantaneous sharing; truly global education; medical appointments with 3D imaging; even new industries that we haven't even dreamed of, powered by a gig." Projects that involve wrangling massive amounts of data could certainly benefit most of all from that sort of network speed. It remains to be seen, however, whether such deployments really convey massive, tangible benefits on their communities—or if they merely give people a better way to download their entertainment.
Image: Gigabitseattle.com