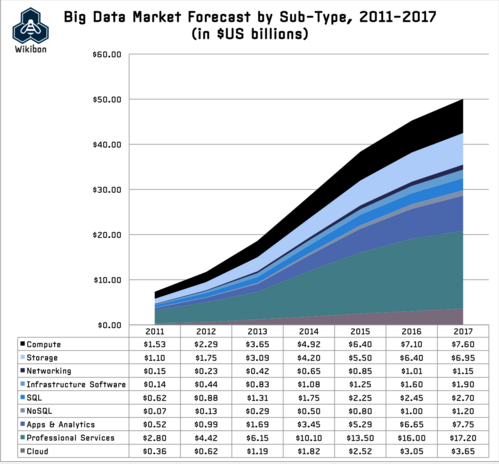 While it's easy for some to dismiss so-called "Big Data" as a lot of hype, a number of analysts have attached an increasing financial return to the category over the next few years. "The Big Data market as measured by vendor revenue derived from sales of related hardware, software and services reached $18.6 billion in calendar year 2013," Jeff Kelly, lead "Big Data" analyst for business-technology research collective Wikibon,
wrote in a Feb. 11 blog posting
. "That represents a growth rate of 58 percent over
the previous year.
" In Kelly's estimation, services comprised some 40 percent of that market, followed by hardware at 38 percent (most notably storage) and software at 22 percent. Market drivers included more IT vendors firming up their services and software roadmaps, along with maturation of analytics platforms and other "Big Data" products; more data technology reached "enterprise grade," with hardened security, better privacy protections, and high availability for Apache Hadoop and other popular frameworks. More vendors partnered up, strengthening their respective capabilities and audience pools. At the same time, however, fears over privacy and security—and difficulty melding analytics workflows into the daily rhythms of business life—helped impede "Big Data" uptake in 2013. Kelly cited other blockers, such as "continued 'Big Data Washing' by legacy IT vendors leading to confusion among enterprise buyers and practitioners" as well as "'political' factors that make it difficult for enterprise buyers to engage new vendors." Also, many data-analytics platforms lack polish, which can drive many firms away. Wikibon's top "Big Data" vendors in 2013 included (in order) IBM, Hewlett-Packard, Dell, SAP, Teradata, and Oracle, followed by SAS Institute, Palantir, Accenture, PWC, and Deloitte. Meanwhile, some other big tech players—including Cisco, Microsoft, Amazon, and Google—lingered much further down their list, which was determined by a "Big Data" revenue (both alone, and taken as a percentage of overall revenues). The collective's exhaustive list is available as
part of Kelly's blog posting
. Wikibon also thinks that "Big Data" will continue to grow as a category: "Looking ahead, the Big Data market is currently on pace to top $50 billion in 2017, which translates to a 38 percent compound annual growth rate over the six year period from 2011, the first year Wikibon sized the Big Data market, to 2017." That's a significant increase from the $18.6 billion logged this year; the question is whether growing concerns over the privacy and security of data—as highlighted by last year's explosive revelations about the extent of NSA spying—will slow the building and use of massive consumer datasets, which are the foundation of analytics for many businesses. "As Wikibon has urged before, it is critical for the industry to be proactive and address these concerns sooner rather than later," the blog concludes. "It makes good business sense to do so, but is also the responsible thing to do."
Image: Wikibon