During the pandemic, millions of technology professionals working from home found that their work-life balance improved. As offices opened back up, these tech pros wanted their companies to continue giving them the option of remote or hybrid (i.e., coming into the office a few days per week) work. They also wanted flexible schedules, along with benefits such as child and elder care.
What's the net result of these desires? According to the latest edition of Dice's Sentiment Report, a majority of technologists reported that their work-life balance is better than it was during the pandemic, with just 16 percent of respondents indicating their work-life balance is "worse" (compared to 24 percent in 2021). A full breakdown of the data is available in the report: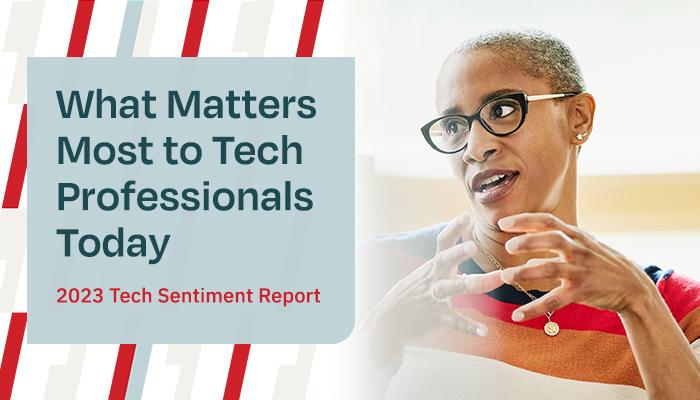 Dice's latest look at how tech professionals think and feel about tech's most pressing trends is here — and ready-made for your hiring needs.
Years ago, the biggest technology companies (i.e., the Googles of the world) offered amenities designed to keep their bright technologists as happy as possible: in-office cafeterias and gyms, liberal leave policies, laundry services, and more. Most companies don't have the resources to offer those kinds of options, but it's becoming clear that many technology professionals care more about work flexibility and work-life balance than ping-pong tables and beer taps in the breakroom. It remains true that organizations of all types need to take a hard look at the benefits that technology professionals truly value, including as much working flexibility as they can offer, if they want to keep their in-demand specialists happy.
What happens if technology professionals don't get what they want, and they feel their work-life balance is critically out of whack? Beyond something like "quiet quitting," the most likely outcome is they'll look for other jobs (and you don't need to look any further than the data in this report to validate that theory). Thus, many managers (with approval from their leaders) are willing to negotiate with employees in order to retain them, and that may be part of what's driving better work-life balance for tech pros.
Dice's Sentiment Report offers many more insights into what technology professionals are thinking and feeling at the moment. Check it out for critical information on everything from tech professionals' outlook on their industry and profession to how an employer's brand impacts their decision to apply for roles.