[caption id="attachment_139471" align="aligncenter" width="2748"]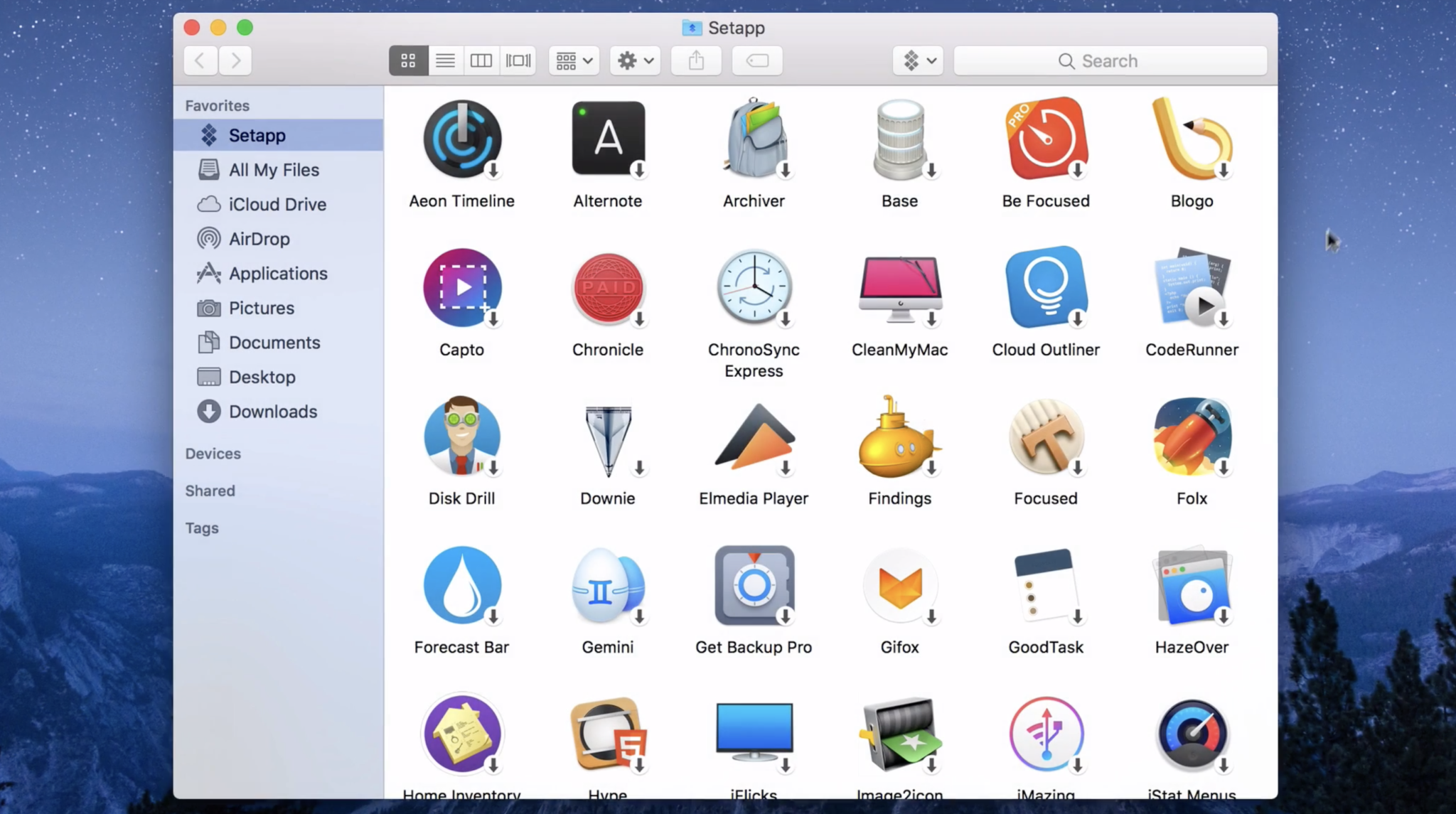 Setapp for Mac[/caption] Macpaw, the development company you might know from such apps as
CleanMyMac
and
Gemini
, has launched a new subscription service for native Mac apps that could disrupt Apple's Mac App Store in a big way. Setapp bills
itself
as the "Unstore" (like T-Mobile's "Uncarrier" movement), and currently offers users 60 apps for $9.99 per month (it says the pool of available apps will only grow over time). It lives as a standalone folder on your computer, and also makes a home in the Menu Bar. Macpaw says the platform is meant to disrupt the current trickery and one-way flow of cash seen in the Mac App Store:
Instead of paying for upgrades, expensive in-app purchases to unlock important product features, or freemium apps that 'trick' users into buying more later, users of Setapp get access to fully functional software with the latest updates delivered continuously in the background. Setapp has been under development for more than a year and is now emerging from a private beta period in which more than 35,000 consumers got a sneak peek at the service.
Apps don't live natively in your computer. Instead, you get an icon and preview page (like the App Store) of what each app is, so you're not downloading more than you want or need. A good example is Macpaw's Gemini, which finds duplicate files on your computer. With Apple's move to APFS, macOS is better at reducing duplicates, and a new memory management
feature
offers to eliminate them for you. That doesn't mean Gemini is redundant, but it might not be useful for you to download (just as
Chronicle
may be unnecessary if you use
Mint
, or
Focused
dispensable if you're a Pages fan).
For Better Or Worse, Setapp Isn't the Mac App Store
There
are
some striking similarities between the Mac App Store and Setapp. For developers, both take care of some marketing and advertising chores, along with processing payments and delivering apps to users. Setapp distances itself from the Mac App Store by also handling customer service related to billing and licensing, which is a natural function for it, as Macpaw accepts payments and distribution of apps. It says it handles these boilerplate issues so developers can "focus on what they do best: Develop great software with continuous improvements that customers want and need." Monetization is still tricky, though. From the Setapp
announcement
:
Setapp fills the gap for development studios of all sizes that desire repeatable income with revenue, equal to 70 percent of the total generated by their apps, shared with developers based on which applications certain customers use during the billing cycle. As a reward, two-thirds of the remaining 30 percent goes to developers in the form of a 'partner fee' which is based on the lifetime value of each subscriber they have brought to the platform.
This seems purposefully confusing. First, the 30 percent is divided between developers and Macpaw; the company takes 10 percent, and the remaining 20 percent seems awarded based on how long an app remains in Setapp – a bit like a loyalty reward (not a 'fee'). Over time, that 'loyalty' bonus could dwindle dramatically if developers don't bother to remove their apps from Setapp. The bulk of how a user's subscription fee will be distributed is where things get tricky. Though 70 percent is available to developers, their cut still has to do with usage. Theoretically, if users don't download and use an app via Setapp, the developer may not see revenue at all. And it's not clear if the entire 70 percent is
always
divided between developers, or if there's a ceiling (an app can't accumulate more than a 30 percent take, for instance, possibly leaving Macpaw with residual income). Still, Setapp is a clever service that pinches Apple's subscription model in a smart way, and provides a new platform for up-and-coming apps to find an audience. Macpaw also doesn't demand solidarity; you can still sell your app via the Mac App Store or independently – or join another subscription service if another company is so bold. It will take time to see if Setapp is a viable business model for both Macpaw and developers, but it strikes us as a unique offering that just might grow into something broader, with sections for design, development, productivity and other genres. And of course, there's always the risk that Apple will morph the Mac App Store into something similar.