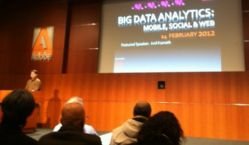 Big data is all about numbers, right? Wrong. If you follow the logic of Tom Jacobs, organizer of the Big Data Analytics: Mobile, Social and Web meetup in Silicon Valley, there are trends and topics that are extremely useful to big data engineers and scientists beyond big data tools. Since its founding in June 2011, this meetup has sponsored a series of speakers who dive into such topics as data analysis relating to social media, as well as algorithms for digital advertising. On Dec. 10, the Big Data Analytics meetup will host Dominique Hanssens, a marketing professor at the University of California at Los Angeles, who will explore marketing science and big data. "The type of people we attract are hands-on engineers who are deep in the weeds, but also want additional information to help them solve a problem," says Jacobs. For example, one of the speakers discussed pulling a sample of the data and using it to round off the results. That gave people another perspective of how to do their work and challenged their assumptions, he added.
Adobe and Omniture Connection
While some meetup groups come together out of a desire by a single individual to gather similar birds of a feather , the Big Data Analytics meetup was created and is sponsored by Adobe Systems and Omniture. Jacobs, who leads a research lab at Adobe, says the meetup was formed after Adobe's acquisition of Omniture. Omniture, a major provider of paid analytics, was focused on its products and big data. However, it didn't have a research lab to keep an eye on where big data trends were headed or how to exploit those trends in the next several years, Jacobs says. As a result, the newly merged company would check out various big data meetup groups, but found most were focused on the tools. "We decided to sponsor a new meetup group and bring in a broad range of speakers who could unify big data and business opportunities within big data," Jacobs explains, noting the group approaches big data from a 10,000-foot view.
What You See, What You Get
The meetup calls on professors from various universities to data scientists who are members from IT organizations like the IEEE. The speakers tend to offer a mix of a strong research background and business perspective. Big Data Analytics usually meets once a month, with the date dependent upon the speaker's availability. The doors open at 6:30 p.m. with food and drink, followed by a presentation at 7 p.m. The speaker usually talks for an hour to 90 minutes, with time afterwards to socialize with the speaker and other attendees. The group, which has over a 1,000 members, can accommodate up to 150 attendees per meeting and its meetups have been sold-out over the past few months. Space, however, is still available for its December meetup.