While the economic recovery has the legs of a wounded duck, Silicon Valley's comeback looks like it's just taking flight.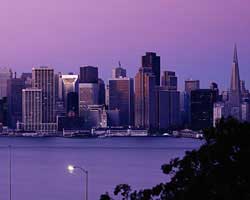 A report released by the Business Forecasting Center at the University of the Pacific in Stockton predicts the Valley's economic engine is likely to recover faster than the rest of Northern California. The report says the San Jose metropolitan area "continues to be the only area in Northern California that is clearly recovering." The Center forecast job growth at a rate of 3 percent next year and in 2012.
Speaking at a Bay Area Council meeting in Santa Clara, John Haveman of Beacon Economics in San Rafael, an economic analysis firm, predicted that Silicon Valley will "bounce back faster than either the East Bay or San Francisco." Employment in IT, including telecommunications, Internet service providers, Web portals and data management - which had slipped 8 percent during the recession - already has returned to its normal growth rate, he said.
Valley Boom in Temp Jobs Could Signal Growth for Full Time Slots
Temporary positions in Silicon Valley jumped by 14.6 percent compared to a year ago, according to the Bureau of Labor Statistics. And while the numbers aren't great - there are about 18,000 temp jobs in Silicon Valley - the figure is is widely viewed as a precursor to growth in full-time employment.
The downside, of course, is that temp jobs tend to pay less than full-time positions. For instance, in Santa Clara County, the average annual wage for temporary workers was $43,700 in 2009 versus $82,000 for full-timers.
Fast Growing Super Micro To Boost Staff by 200-Plus
One San Jose company that's looking to beef up its workforce is Super Micro Computer, a maker of servers and related products, which plans to add 220 workers in 2011, with a focus on hardware engineering talent. The company already employs more than 60 engineers who focus on power supply systems.
With about 1,100 employees, most located in Silicon Valley, Super Micro's revenues were up 43 percent last year. At the same time, the company's workforce expanded by about 20 percent.

Of Top 10 Fields for New Grads, Four Hottest are in Technology
Of the 10 hottest occupational fields for newly minted college graduates, the top four are in IT. The list, compiled by University of California San Diego Extension, is based on enrollment figures, national employment statistics, and interviews with area business executives.

Leading the list are healthcare IT, mobile media, data mining, and embedded engineering. For the most part, healthcare IT jobs in demand are those needed to implement the switchover from paper to digital medical records - healthcare integration engineer, healthcare systems analyst, clinical IT consultant, and technology support specialist.
-- Doug Bartholomew