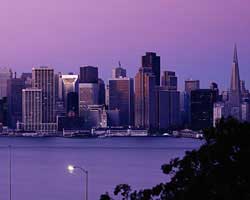 Has A Tech Bubble Burst?
The recent stock market plunge has many speculating that if a tech bubble existed in Silicon Valley, it's now burst. Groupon, which has filed for an IPO, now may have to settle for raising less money than it had hoped, other companies may face similar disappointments unless they wait for the markets to bounce back.
The Daily Beast
Startup Valuations Climb:
Still, Silicon Valley startup valuations have increased to pre-2008 levels, according to the latest
Silicon Valley Venture Capital Survey
.
Venture Beat
But: Some Investors Are Leery:
Although startups have enjoyed significant funding lately, some investors are warning that dynamic will soon change. They say the cycle of boom and bust in the startup community is natural, and contend the market's headed for a period of more conservative funding.
CNN
Debt Downgrade Doesn't Impact 's Valley Entrepreneurship:
Despite the recent debt downgrade, some observers say Silicon Valley continues to thrive and grow. However as their valuations settle toward more realistic estimates, area tech companies will have to exercise greater fiscal responsibility. On the other hand, some believe this could spur greater innovation.
Economic Times
Google Leases Office Space for New Mobile Ventures:
As Google acquires Motorola Mobility, it plans to lease a four-building office complex in Sunnyvale. The 27-acre Technology Corners complex is close to Google's headquarters in Mountain View and can house an estimated 3,000 workers.
Bloomberg
Analysts Question Motorola Mobility's Acquisition:
Wall Street analysts downgraded Google stock after the company acquired Motorola Mobility, due to concerns the deal will take longer than expected to close. Questions have also surfaced over whether Motorola's more than 17,000 patents would adequately protect Google's Android mobile software from a barrage of intellectual property challenges. One other concern: Google will now inherit an estimated 19,000 workers.
SiliconValley.com