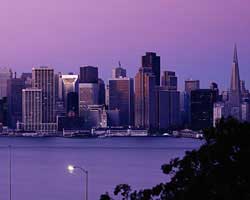 Valley Focus Shifts to Mobile Technology:
Earnings reports show mobile device shipments are overtaking PCs worldwide. By 2015, more than 300 million tablets will ship, compared with an estimated 479 million PCs. The shift is forcing Silicon Valley to rejuggle its priorities.
Bloomberg
Area Jobs Increase in June:
Silicon Valley added thousands of jobs in June, including positions in technology and computer manufacturing, according to a state employment report. In technology, the biggest gains were in IT, spurred by growth in social media and Internet firms.
San Jose Mercury News
Silicon Valley Region the "Most Social":
San Francisco and San Jose are among the most social in the nation, says NetProspex, an online business directory. The rankings examined the number of employees registered with major social networking sites.
Business Insider
Companies Race to Snatch up Patents:
Apple recently spent $2.6 billion to buy thousands of mobile tech patents from Nortel Networks. The move is part of a larger "patent war" by big tech companies that want to gain an advantage in the mobile space. Some say Apple is using patents to slow down or even remove competitors from the field.
American Public Media
Silicon Valley Rents Are on the Rise:
Rent for Bay Area apartments are increasing due to a tech recovery and steady flow of area foreclosures that's turning homeowners into renters. The San Jose region has the highest average rent in the Bay Area -- $1,759 a month.
San Jose Mercury News
A New Gold Rush:
Silicon Valley is in the midst of another boom as the world marketplace looks to the area as a center of innovation. MSNBC