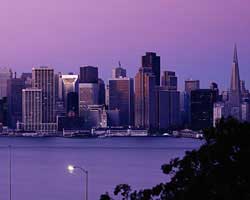 Can Technology Pull the U.S. Economy Forward?:
At the President's Council on Jobs and Competitiveness, leading U.S. technology innovators and entrepreneurs said Silicon Valley can boost the nation's ailing economy by creating jobs for Americans.
SFGate.com
California Tops the Country in Venture Capital:
A new study finds that California is the top state for venture capital, with almost half of all the country's venture capital deployed in the state.
Puget Sound Business Journal
Confidence Waning for Bay Area Venture Capitalists:
Even while Bay Area venture capitalists were pouring money into startups during the second quarter, their confidence was shaky according to the 30
th
quarterly report on Bay Area Venture Capitalists' Confidence. Concerns over a potential bubble in the value of tech startups and worries about debt in the U.S. and Europe have Silicon Valley venture capitalists concerned about the immediate future.
Portfolio.com
Google Accuses Rivals of Colluding Against Android:
After Google lost a bid for thousands of patents from Nortel, it accused its biggest rivals of banding together to buy the patents that would effectively "tax" Android cellphones. Google Chief Legal Officer David Drummond said it was "a hostile, organized campaign against Android by Microsoft, Oracle, Apple and other companies, waged through bogus patents."
Reuters
Twitter Seeks to Console Critics Through Restructuring:
As some of the top leaders of Twitter have recently departed, the company seeks to reassure critics it's doing just fine. Yet the company faces hefty challenges including how to make money from user traffic, how to prevent being overloaded with traffic and how to help users navigate millions of tweets.
SiliconValley.com
Innovation Endeavors Testing New Startup Methods:
Former Google CEO Eric Schmidt's new venture capital fund, Innovation Endeavors, is using a Survivor-style startup competition and other methods to help startups. The fund has already invested in 16 companies, helped two get acquired, and nearly completed the pilot round of its
Survivor
-esque startup-building program.
BusinessWeek
Symantec Reveals Widespread Online Espionage:
Symantec revealed the most threatening and widespread case of online espionage ever publicly disclosed, which it said threatened the country's economy and national security. It identified 72 organizations targeted, but the potential number of companies and government agencies attacked could be in the thousands.
SiliconValley.com