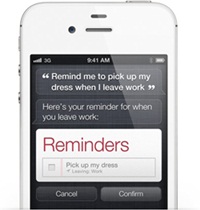 Siri, the most talked about feature of Apple's iPhone 4S, has been ported to the iPhone 4 by developer Steven Troughton-Smith. According to
9to5Mac,
the port was initiated by installing the iPhone 4S Siri and Springboard files on the iPhone 4. Apparently, the hardware of the iPhone 4 is sufficiently powerful to run Siri. The only caveat: Apple's server won't bother authenticating commands from an iPhone 4, and it's unclear whether Apple will change that in the future. There are two logical explanations: First,
Siri is the only reason
for iPhone 4 users to upgrade their devices. Apple customers don't focus much on technical specifications, otherwise they'd have gotten themselves an Android smartphone with a fancy spec sheet instead (
Nexus Prime
anyone?). So, if Siri is made available on the iPhone 4 officially, guess who won't be upgrading? Second, Apple expects nothing short of perfection. It's possible that the company's decided that Siri on the iPhone 4 can't run as flawlessly as it should, so they'd rather leave it off. [youtube http://www.youtube.com/watch?v=N-OnZCywaII?rel=0&w=580&h=325] That begs the question: Why isn't Siri available on the iPad 2? It features the same dual-core A5 chip and 512MB RAM of the iPhone 4S. By rights, there shouldn't be any performance degradation running Siri on the iPad 2. 9to5Mac researcher Sonny Dickson had earlier
posted a screenshot
on Twitter showing Siri's settings page on an iPad 2. He says that the port is still at work. No word on whether it faces the same obstacle as the iPhone 4.