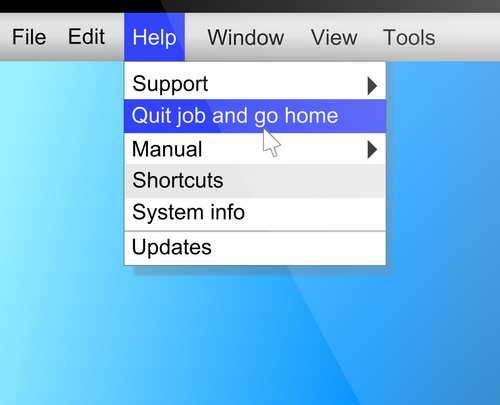 You've been at a job for some time and, for any number of reasons, it's no longer working out. Quitting now will put you in a bind either professionally or financially, but coming to work every day is excruciating. What can you do to make your situation more tolerable until you're able to move on?
Deadline Your Exit
Whether you decide to leave in six months or a year, start the grin-and-bear-it process by setting a deadline to leave. Amy Armstrong, LPC, a Westfield, New Jersey career coach, sees the deadline as a necessary part of planning your departure. "If you know you're on the way out, it can help to know when that's going to be," she said in an interview. "If things are really bad, it can save your sanity if you have a drop-dead date."
Make Peace With the Boss
While many variables influence why a job isn't working out, the problem often revolves around the individual in charge. Randi Bussin, founder of Aspire, a career coaching and personal branding company in Boston, noted that such difficulties are often "a communication problem," which can be mitigated provided the supervisor is not a crazy person. George Phirippidis, a senior consultant at KerrHill, a San Francisco business management, training, and development firm, agrees that communication with the boss is often the problem. "A lot of times it's because these people have never actually talked to one another," he said. "You should really try to open up a dialogue before you do anything else. If you're all on the same page it will reduce the stress levels considerably, even if you still don't like the job."
Upload Your ResumeEmployers want candidates like you. Upload your resume. Show them you're awesome.
Bussin suggests making an effort to adapt to your employer's temperament, because they're not going to change. It may seem counterintuitive, but yielding in the short term will create some breathing room, as you won't waste energy being exasperated. "Give the boss what they want," she added. "And have confidence that this is part of your exit strategy."
Stay the Course
Phirippidis acknowledges that some employers will never be satisfied. In that case, "sucking it up" may prove your best option. However, understand that a big part of anybody's career involves making management look good; he advises prioritizing your basic work needs and then focusing your energy on doing the best job possible. Making yourself successful in the current position will help you progress toward that next step. Your good will may also pay off: Phirippidis notes that recommendations from difficult employers could prove very useful in the long run.
Tweak Your Discontent
Beyond contending with the biggest drawbacks, even making small adjustments could have a positive impact on your mood. "What changes could you make?" Bussin asked. "How could you tweak it to make it palatable?" If moving your desk or location would make you feel better, do it. If a boisterous open office or loud colleague makes life difficult, wear earplugs. Spend a little time figuring out what it would take for you to exist more comfortably in the office.
Self-Care Is Critical
"I send people to yoga and get them out walking and I've connected clients to meditation practitioners," Bussin said. "I'll actually ping them a couple times a week to make sure they're doing it. If you pay attention to taking care of yourself in a difficult situation, the negativity may shift and make it livable." Don't skip lunch, counseled Armstrong, and take all your breaks; don't volunteer for extra projects, check work email from home, answer your work phone off-hours, or work weekends. Armstrong remains a fan of affirmations, even if you don't believe in them. "I am particularly fond of 'Well, I never did mind about the little things' from
Point of No Return
," she said. "It doesn't matter what it is as long as it helps you snap out of dark places." Bussin had a somewhat radical suggestion: "Give yourself the flu." Taking a few sick days to get a break (and maybe work on your resume) is as much a survival strategy as making use of any vacation or personal time. If your situation is making you emotionally or physically ill, don't hang from the ledge by yourself. Seek help. Bussin has worked with many clients who've sought therapy, as well as some who've been medicated for anxiety and depression. Getting proper treatment can make a massive difference in the quality of your life, and empower you to contend with the tricky stuff and continue to move forward.
Related Articles
Image: Sam72/Shutterstock.com