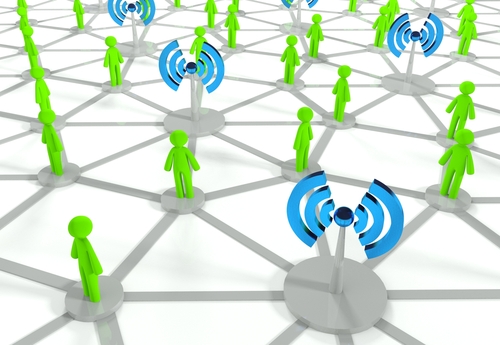 Corporate network directors may get a break from wireless migrations during the last months of this year, during the gap between their completion of migrations to 802.11n wireless LANs this year and the beginning of a major migration to 802.11ac that will get real in 2014. Global sales of wireless LAN gear rose 14 percent during the second quarter of 2013, driven by corporations trying to centralize management of their scattered wireless LANs and by service providers building WiFi access points outdoors to accommodate growth in demand for public WiFi,
according to a report to be published Sept. 10 by Infonetics Research.
Fourteen-percent growth is fast enough to indicate a major trend toward the associated technology, but actually reflects a flattening of growth in wireless sales caused by the completion of most corporate migrations to 802.11n, according to Matthias Machowinski, director of enterprise network and video analysis at Infonetics. Sales of WLAN hardware are growing faster than any other type of network hardware, but have fallen off this quarter from the 30 percent growth during the second quarter of 2012. The big change is largely due to the completion of most corporate migrations to 802.11n, whose high bandwidth, tighter and more granular security and better manageability made it a datacenter darling before the specification was even finalized. A third of large corporations began or planned to begin migrations to 802.11n in late 2008,
nearly a year before the specification was finalized in October of 2009,
according to an Aug. 2008 survey from BT North America. Migration to 802.11n offered more than just a boost in bandwidth compared to 802.11a, b and g specifications,
according to Matt Sarrel, founder of product-testing lab Sarrel Group.
802.11n offered corporate networks a qualitatively different experience, he added. Support for multiple frequencies and multiple data streams increased throughput, but also made the connections far more reliable. The ability to remotely administer access points allowed what had been locally-administered independent LANS to be consolidated into professionally managed, distributed corporate WLANs. Those features also allowed corporate IT to keep up with growing BYOD programs that had begun flooding their networks with un-secured hardware, and the personal and business notebooks that started popping up with 802.11n support almost as soon as workable drafts became available. By June 2012, sale of wireless access points had doubled compared to 2008 and
more than 75 percent of new access-point shipments were 802.11n, according to Infonetics.
By the second quarter of this year, 90 percent of new access points were 802.11n. Shipment this quarter of the first 802.11ac access points designed for corporate networks was a major milestone, but devices running the new specification won't sell quickly enough to make much impact on the market this year, Machowinski said. The final specification for
801.22ac won't be final until 2014,
which holds back growth to some extent. With a theoretical top data rate of 1.3 Gbit/sec, 802.11ac easily outpaces the 600 Mbit/sec or so of 802.11n. Even a big difference in speed isn't enough to drive corporations to start another major WLAN migration so soon after finishing the last one, according to Machowinski. The speed of 802.11n is enough to meet the needs of most existing corporate networks, which are based on 1Gbit/sec Ethernet, the Infonetics report said. As corporate networks shift to 10Gbit/sec for all but local networks, demand will grow for 802.11ac as well. In a complete switch from the past – in which all networking topologies were dominated by wires running various flavors of Ethernet – the wireless cart will actually begin pulling the horse during the next year or so, according to a Sept. 4 report from Dell'Oro Group. Rather than waiting for 10Gbit/sec Ethernet to open demand for greater bandwidth in wireless access points, Dell'Oro's report said, corporations are likely to buy 802.11ac for access points first, and
allow their demand for more bandwidth to justify migration to 10Gbit/sec Ethernet on the wired side.
"The throughput needs of 802.11ac may require multiple Gigabit Ethernet ports or even 10 Gigabit per second ports which may drive additional in-building cabling," wrote Dell'Oro analyst Chris DePuy in the report. "Enterprises will be forced to develop specialized wiring and network systems that are separate from those previously shared with desktop wiring and switches, or else run 802.11ac at less than full capacity."
Image:Shutterstock.com/Leszek Glasner