Politicians always point out that more than half of all American workers (120 million-plus, depending on how you count) are employed by businesses with fewer than 500 employees.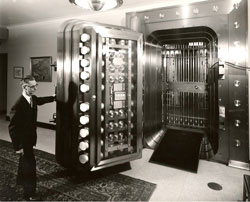 If and when we really start to shake off this recession, these small companies will lead the way, and their demand for technology solutions will certainly increase. That means that consultants who cater to the not-terribly-complex IT needs of SMBs may find some great opportunities. Courtesy of Paul Mah of IT Business Edge, here's
eight IT tasks that SMBs need to get done
. Maybe you can help.
Re-examine Backup Strategies
Advancements in technology have opened the door to alternative backup options such as cloud-based backups, business-grade NAS that can scale beyond 10TB, as well as the ability to back up to disk-based media.
Improve Defenses against Security Weaknesses
The rapidity with which new software flaws are being exploited and distributed necessitates a clear strategy with regards to security updates and vulnerability patching.
Look to the Clouds
Cloud computing has evolved rapidly, and today it is possible to leverage the cloud for handling a large range of disparate jobs.
Maintain Business Continuity
It is probably high time to re-examine existing business continuity plans and where possible, incorporate the use of virtualization in order to maintain business continuity."
Backup and Restore
The availability of powerful, terabyte-range storage appliances such as NAS (Network Attached Storage) helps to dramatically reduce the amount of time it takes to perform a proper backup and restore.
Implement a Wi-Fi Network
With 802.11n Wi-Fi offering an effective point-to-point data rate surpassing that of Fast Ethernet, it is probably as good a time as any to implement a wireless network.
Add Mobility and Tablets
The sheer number of smartphones and tablets being shipped demands that SMBs consider their possible use in a business environment.
Build Internet Reliability and Security
There are a number of load balancing options for reliable Internet access, as well as the use of network tools to detect and protect against compromised local hosts.