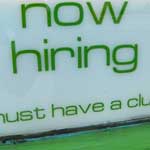 I've never met anyone more tightfisted than a smart startup business owner. So when a bunch of technology entrepreneurs say conditions are improving and they see themselves hiring this year, it's worth paying attention to.
In this case, they said it to SVB Financial in Santa Clara, Calif: The company surveyed 304 early stage tech and life science firms with less than $5 million in annual revenue and found they were basically optimistic, growing and hiring.

Nearly three quarters - 74 percent - said they're likely to hire to this year. At the same time, nearly 25 percent see access to talent as a challenge. (I found 560 job listings when I searched "startup" this morning.) Among hardware companies, 29 percent identified access to qualified candidates as an issue
If you want to dig into the numbers, you can download a pdf of the report here.

-- Mark Feffer