[caption id="attachment_18298" align="aligncenter" width="502"]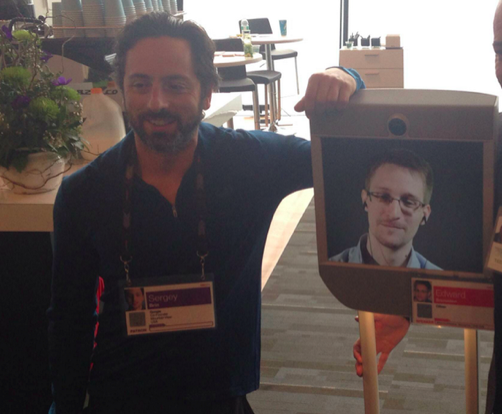 Google co-founder Sergey Brin with Edward Snowden (via robot).[/caption] Edward Snowden hasn't let political exile hold him down: days after his keynote appearance (via Google Hangouts) at South by Southwest (SXSW) in Austin, Texas, the government whistleblower put in an appearance at TED in Vancouver. Snowden can't leave Russia, which granted him political asylum after he unveiled some of the National Security Agency's deepest secrets, so he attended TED via a Beam robot, which features a screen, microphone, and built-in speaker along with wheels that allow it to roll from place to place. In a discussion with TED curator Chris Anderson, Snowden suggested that even those Internet users who've done nothing wrong should be concerned about the scope of NSA surveillance. "People should be able to pick up the phone and call their family, should be able to send a text message to their loved one, buy a book online, without worrying how this could look to a government possibly years in the future," he said,
according to Wired
. "We have a right to privacy." Snowden also reiterated his talking points from SXSW, in which he suggested that securing the Internet from government surveillance was the responsibility of those who actively spend time building and cruising the Web, rather than some regulatory body: "People who have enjoyed a free and open internet, it's up to us to preserve that liberty for the next generations." While Snowden asserts that he's very much an American citizen and a patriot, the U.S. government remains determined to jail him for what it perceives as his crimes. In January, U.S. attorney general Eric Holder
said Snowden could return to the country and plead guilty
, and the government would figure out how to handle his case—an inversion of the usual U.S. justice process, where discussions usually come before the guilty plea. However Snowden's case turns out, his revelations have forced the U.S. government into a very public discussion about the extent of NSA spying. The big question now is whether Snowden has more—and possibly bigger—revelations up his proverbial sleeve.
Image: Chris Anderson's Twitter feed