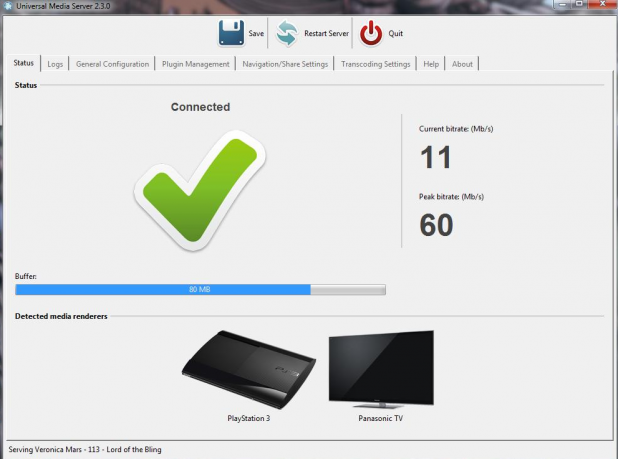 Over at Slashdot's sister site SourceForge, the community selected
Universal Media Server
as its Community Choice Project of the Month, and talked with its founder about the platform's history, purpose (a multi-OS DLNA-compliant UPnP Media Server for streaming videos and other media over a network), and direction. Read on for more:
SourceForge:
Tell me about the Universal Media Server project…
SubJunk:
Our program serves media (video, audio and images) to many devices like TVs, gaming consoles, smartphones and more.
SF:
What made you start this?
SJ:
I started this project when I was working on another project called PS3 Media Server, so just a quick background on that: I had used PS3MS for years, and the project founder and developer shagrath—who is not only a very talented programmer but also a very cool guy—eventually lost interest since he didn't use the program himself anymore. I started to make builds of it for myself and published them on the forum, and SharkHunter did his own builds too. Our builds became popular and that led to me and another developer, chocolateboy, being added as official developers to keep the project going. We made some great progress and further down the line more developers were added. Unfortunately this introduced instability in the program and I was spending more time fixing new bugs than anything else, and after a few releases with major bugs I decided to branch the project off to create Universal Media Server (and was joined shortly after by SharkHunter) with more of a focus on stability, and as the name suggests, support for a wider range of devices. Now we have a core team of six: SharkHunter, valib, skeptical, DeFlanko, Optimus_prime and myself, as well as other frequent contributors who help with code and translations.
SF:
Has the original vision been achieved?
SJ:
I think so. We've fixed a lot of old bugs and implemented better quality control methods into our process which results in better stability, we have manual and automatic tests that are run before new releases, and we have a great community who are generous enough to give us useful feedback when we make a mistake so we can fix it pretty quickly.
SF:
Who can benefit the most from your project?
SJ:
It's a great tool for anyone who wants to just use a media server program with no hassle. Many competing programs require you to wait for a media library to be built, which can take hours for those with lots of videos, but UMS is ready to use straight away with no configuration needed. We have lots of advanced features as well for those who want to use them, but I think our biggest advantage is that it just works.
SF:
What is the need for this particular media server?
SJ:
Aside from the things mentioned above, we have so many advantages! We offer subtitle support on every device, whether it supports subtitles or not, and we even support adding subtitles on the fly so you don't have to find and download them yourself. We can output full quality DTS audio, which most servers compress, we interface with iTunes and DVDs, and there are many more specific benefits on our
comparison page
.
SF:
What's the best way to get the most out of using Universal Media Server?
SJ:
To take advantage of our ability to stream media at top quality, it helps to have an audio receiver that can take DTS. Having a wired network is also useful for the best stability and quality, since the highest quality videos can sometimes need to be compressed for smooth transfer over wireless networks.
SF:
What has your project team done to help build and nurture your community?
SJ:
We are very grateful for our community, and our project members use our forums and issue tracker a lot. We give credit where it's due by featuring the names of community members who help us in our release threads and readme files.
SF:
Have you all found that more frequent releases helps build up your community of users?
SJ:
We have definitely found this. There are a lot of media servers out there, and a lot of them have been abandoned or are inactive, so it's important to us to keep releasing new versions regularly to show our community that we are very active and will therefore be a good investment of their time.
SF:
What is the next big thing for Universal Media Server?
SJ:
We have been working hard on a web interface, which will allow us to support devices even without DLNA support. There is really no excuse for a modern device to not have DLNA support, but sometimes companies cut corners and that's not the user's fault, so we want to remedy those situations. We also have lots of other things in the works!
SF:
How long do you think that will take?
SJ:
It is already working and we are working on making it better, and will hopefully release a new alpha version with the web interface in the next month.
SF:
Do you have the resources you need to make that happen?
SJ:
We are a free program and we all do this out of pure motivation to improve the program. Sometimes people
show their generosity by donating
and thanks so much to everyone who has, it helps to cover our hosting costs.
Image: Universal Media Server