[caption id="attachment_10930" align="aligncenter" width="618"]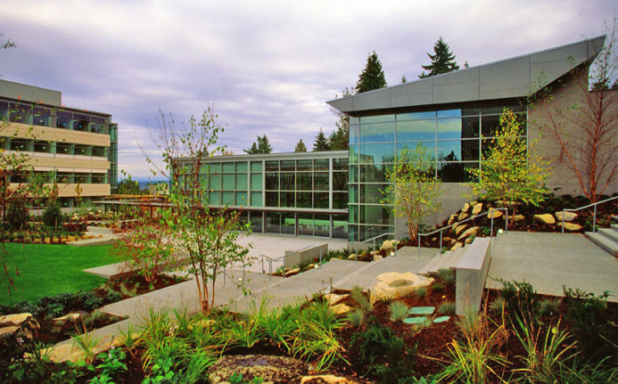 Microsoft's Redmond campus: lots of excitable people there today.[/caption] Microsoft's long-rumored reorganization has begun. Rumors had persisted for weeks that Microsoft CEO Steve Ballmer was planning a massive, once-in-a-lifetime reorganization of the company he's been running for quite some time.
According to AllThingsD
, the reorganization would add "functional coherence" to Microsoft's businesses, which are facing significant challenges from a number of highly motivated rivals. Critics have along argued that Microsoft's sheer size has slowed its reaction time, as each of its massive divisions essentially operate as giant companies on their own; as a result, Microsoft has failed to capitalize early on major technological shifts, such as the rise of mobile devices. But now, everything's going to apparently change in big ways. "Improving our performance has three big dimensions: focusing the whole company on a single strategy, improving our capability in all disciplines and engineering/technology areas, and working together with more collaboration and agility around our common goals," Ballmer wrote in an
enormous memo
detailing the reorganization, posted on Microsoft's Website. Microsoft will coalesce around "a single strategy as one company," he added, "not a collection of division strategies." The company's product portfolio—from Windows and Xbox to enterprise applications—will be regarded and operated upon in a holistic manner. Ballmer wants this "one company" approach to extend how Microsoft handles its advertising, marketing and consumer-service operations. "This means we will organize the company by function: Engineering (including supply chain and datacenters), Marketing, Business Development and Evangelism, Advanced Strategy and Research, Finance, HR, Legal, and COO (including field, support, commercial operations and IT)," Ballmer wrote. "Each discipline will help drive our overall strategy." In addition, Microsoft will now host four engineering "areas," encompassing OS, Apps, Cloud, and Devices. Dynamics will be kept separate, as it apparently needs "special focus." Many details of that consolidation have apparently been worked out, but finishing the process will still take through the end of 2013; existing teams will continue to focus on Windows 8.1, Xbox One, and other projects. Ballmer also wants to knock down the walls that have slowly grown between Microsoft's various divisions, at least as far as engineering's concerned. The new "engineering culture" will apparently facilitate collaboration "across the company," with an emphasis on cross-group contributions (and maintaining secrecy, of course, for certain projects).
New Groups
The "new Microsoft" will feature a whole lot of new and reorganized groups:
Operating Systems Engineering Group:
Led by Terry Myerson, and focusing on all OS aspects from mobile devices to PCs and back-end systems. "The core cloud services for the operating system will be in this group," Ballmer wrote.
Devices and Studios Engineering Group:
Led by Julie Larson-Green, this group will focus on hardware development and supply chain; it will also handle "studios experiences" such as games and music.
Applications and Services Engineering Group:
Led by Qi Lu, and tasked with handling broad applications and services core technologies in productivity, communication, search and other information categories.
Cloud and Enterprise Engineering Group:
As the name suggests, this group will concentrate on datacenter, database, and other enterprise technologies.
Dynamics:
"Kirill Tatarinov will continue to run Dynamics as is," Ballmer wrote, "but his product leaders will dotted line report to Qi Lu, his marketing leader will dotted line report to Tami Reller and his sales leader will dotted line report to the COO group."
Advanced Strategy and Research Group:
Led by Eric Rudder, this group will apparently explore technology and policy issues.
Marketing Group:
Led by Tami Reller, and tasked with centralized advertising and media functions.
COO:
Kevin Turner is staying in this position.
Business Development and Evangelism Group:
Former Skype CEO Tony Bates will (as long rumored) lead this group, where he'll focus on partnerships and evangelism. "OEM will remain in SMSG with Kevin Turner with a dotted line to Tony who will work closely with Nick Parker on key OEM relationships," Ballmer wrote.
Finance Group:
"Amy Hood will centralize all product group finance organizations," Ballmer wrote. "SMSG finance, which is geographically diffuse, will report to Kevin Turner with a dotted line to Amy."
Legal and Group Corporate Affairs Group:
Brad Smith remains as Microsoft's General Counsel.
HR Group:
Lisa Brummel will lead Human Resources. Kurt DelBene, head of Microsoft's Office division, is apparently retiring from the company; Craig Mundie, senior advisor to Ballmer and its former Research and Strategy Officer, is being shifted to an unnamed special project.
One Microsoft
Ballmer's huge memo also detailed evolutions in Microsoft's development process. Teams will apparently span across the above-listed groups. "Most disciplines and product groups will have a core that delivers key technology or services and then a piece that lines up with the initiatives," Ballmer wrote. "Each major initiative will have a champion who will be a direct report to me or one of my direct reports." Those so-called "champions" will be tasked with guiding the team to success. Ballmer then offered some idea of Microsoft's current priorities in terms of products. "Certainly, succeeding with mobile devices, Windows, Office 365 and Azure will be foundational," he continued. "Xbox and Bing will also be key future contributors to financial success. Our focus on high-value activities—serious fun, meetings, tasks, research, information assurance and IT/Dev workloads—also will get top-level championship." Boiling down the memo's thousands of words, it's clear that Ballmer wants his giant company to operate in a more nimble and decisive way, with units that communicate and collaborate in a much tighter manner than before. "One Microsoft all the time," he wrote near the end of the document, in what will surely become one of those buzz-terms going forward. Can Microsoft actually execute on that grand vision? Ballmer's legacy—and the relevancy of Microsoft as an IT company—depends on it.
But lots of questions still remain
.
Image: Microsoft