Introducing children to computer science as soon as they are interested, especially girls, is a proven method of encouragement for future endeavors in the tech industry. Code camps for kids are scheduled all around the country throughout the summer. All-girl camps and mom+daughter events are scheduled, too.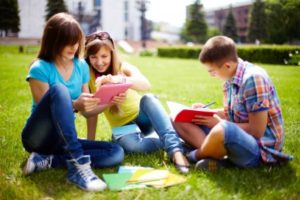 If you've been following tech news you may have read about the bright young woman of 17 who has been attending code competitions with her father (also a programmer). Her most recent
competition ended with a big win over professional developers
who were all adults and mostly men. Jennie Lamere's winning app saves Twitter goers from potential TV show spoilers by hiding relevant updates about spoiled shows. Lamere hopes to one day work at Google and will be attending Rochester Institute of Technology in the fall. One day, Lamere's story will not be an anomaly and girls will be just as likely to continue on to jobs in technology as their male counterparts. Code camps are a way to encourage kids, especially girls, to do something fun with technology. These camps aren't all work, they offer plenty of traditional summer camp fun.
App Camp 4 Girls
Portland, OR August 19-23, 2013 App Camp 4 Girls teaches coding and business skills to girls in grades 6-8. Classes are led by women instructors and focus on iOS development. This summer's session is the first camp. The "beta" camp will run June 22-24th and all spots are taken. The camp intends to expand to older and younger age groups after this year.
Girls Learning Code
Toronto, ON Ages 9-13 May-August Father-daughter hack day June 15, 2013 These code camps help girls discover their passion for technology and help them experience the satisfaction in building great technology, not just using it. Girls Learning Code helps girls build confidence and self-assurance and developing a willingness to try new things while increasing knowledge of tech-related fields.
iD Tech (formerly Internal Drive)
University Campuses around the U.S. Ages 7-18 iD Tech camps offer a variety of technology courses including, but not limited to mobile development, 3D modeling, graphic design, and video game design. Camp lengths are one to two weeks.
Emagination Computer Camps
Boston, MA Chicago, IL New York, NY Atlanta, GA Philadelphia, PA Ages 8-18 Founded in 1982, Emagination Computer Camps teach programing logic, robotics, Java, C++, mobile game design, and iOS apps. Day and overnight camps are available.
Black Girls Who Code
Various Locations Ages 7-17 Black Girls Who Code introduces computer science and coding to under served communities. This program teaches Scratch, Ruby on Rails, HTML, and CSS.
Geek Girl Camp
Boston, MA Cape Cod, MA Phoenix, AZ San Diego, CA Ages 10-88 These hands-on, day-long events provide instruction in mobile app development and PC and Mac troubleshooting.
Iridescent Learning
New York, NY Bay Area, CA Grades 3-12 July 8 - August 2, 2013 (Weekdays) Summer engineering camps whose mission is to use science, technology, and engineering to develop persistent curiosity.
Girls Who Code
June & July 2013 High School Juniors This unique 8 week summer emersion program covers computer science, mobile development, robotics, web design, algorithms, Python, web design UI and UX. Campers are embedded in a university setting or technology company for 8 weeks.
Geek Chic Computer Camps
Various Locations Grades 2-12 July - August Saturday Academy offers a variety of STEM courses for kids over the summer. They cover basic programming, robotics, engineering, lego robotics, lego physics, and math laps to name six.
Microsoft Digi Girls & High Tech Camp
Various Locations Grades 7-12 June - November Microsoft aims to encourage and recruit with its opportunities for girls. All technical levels are accepted and encouraged to apply. From the site: "...students interact with Microsoft employees and managers to gain exposure to careers in business and technology and to get an inside look at what it's like to work at Microsoft."
Rochester Institute of Technology Women in Engineering Program
Rochester, NY Grades 5-12 July 2013 This university sponsored program offers hands-on engineering lessons and recreation to small classes of girls and young women entering grades five through twelve. They offer two camp options and group girls together by grade.
University of North Texas Robo Day Camps
Austin, TX Richardson, TX Denton, TX Frisco, TX Grades 8-12 June - July 2013 Multiple day camps are available through the University of North Texas, Austin. They offer all-girl and co-ed camps teaching robotics, Xbox game development, and Android app development. These are day camps available to kids entering grades eight through twelve.
AAUW TechTrek Science & Math Camp for Girls
University of Central Florida Bowling Green State University Southwestern Oklahoma State University University of Texas at Tyler Pacific Lutheran University Girls entering 8th grade July 14-27 (depending on location) The AAUW TechTrek initiative is designed for girls whose parents did not attend college and live in rural and small school districts. Campers have the opportunity to gain hands-on experience with math, science, and technology. The AAUW authored an excellent research paper entitled
Why so few?
[pdf]. Data gathered for this paper is the basis for offering the TechTrek program to middle school girls. If your child has attended one of these camps in the past, I would love to read about their experiences in the comments section below.
Edited July 10, 2014 to update iD Tech/Internal Drive information.