[caption id="attachment_8369" align="aligncenter" width="618"]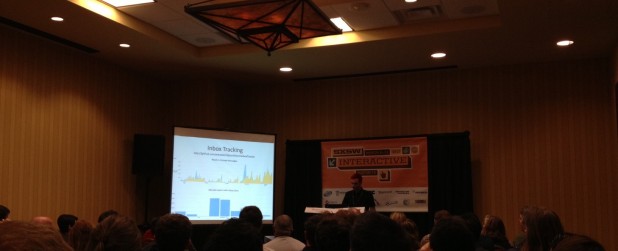 Ed Hunsinger talks about how, with the help of a little hardware, he managed to capture tons of data about much of his life.[/caption] AUSTIN, TX—The SXSW session led by developer and self-professed "Colored Hair Club" member
Ed Hunsinger
, who writes code for
Splunk Storm
("Dolphin-Safe Cloud Based Machine Data Search,"
reads its Twitter bio
), was titled "Playing With Your Own Big Data." It wasn't your typical Big Data seminar, to say the least: rather than delve into some company's software for collecting and analyzing information, he talked about mining data from his body and habits. "My body is a machine to some extent," he told the audience. "I am producing data, it's just not being captured by anything." Wondering if he could apply some of the same principles to his physical self as he did to his Big Data work, Hunsinger seeded his life with devices for measuring his interactions with the environment: his sleep patterns, metrics from his daily biking route, his music choices at particular times of day, his heart rate, and even a posture sensor. He tracked location via Google Latitude, bought a scale that wirelessly shot data to Splunk Storm, and signed onto a platform that tracked the fluctuating levels of email in his inbox. When his wife asks him the last time he cleaned out the kitty litter, Hunsinger joked, he can tell her Tuesday—a Tuesday three months ago, that is. The trick, he explained, is to adopt methods for recording "life" data that are as passive as possible. "When you start tracking something, the act of tracking it has an impact on it as well," he said.
Much of the data from his experiment is currently on GitHub
, where (at least in theory) it could be mashed and chopped by anyone with the skills and a mind to do so. If rumors of Google Glass and Apple's "iWatch" prove accurate, the process of recording and mining personal data could soon become a lot more widespread.
Google recently launched a Website
demonstrating its upcoming augmented-reality eyewear, emphasizing features such as the ability to translate spoken queries into other languages ("How do I say, 'taxi' in Vietnamese"). Google Glass features a small screen embedded in one of the lenses, capable of displaying everything from navigation directions to flight arrival times. Meanwhile,
Bloomberg
and
The New York Times
reported earlier this year that Apple is tinkering with some sort of wristwatch. In February,
Bloomberg
's piece suggested that
a team of roughly 100 designers
and other specialists were hard at work on a "wristwatch-like device that may perform some of the tasks now handled by the iPhone and iPad." In theory, a wristwatch could also host a variety of navigation, mobile-payment, and phone-related features—not to mention biometric apps. Combine that with all the biometric and activity-recording hardware already out there—and readily embraced by everyone from Hunsinger to
runners looking to reduce running times
—and it's clear that personal Big Data could take off in a much bigger way over the next few years. Analytics: it's not just for companies anymore. [caption id="attachment_8368" align="aligncenter" width="618"]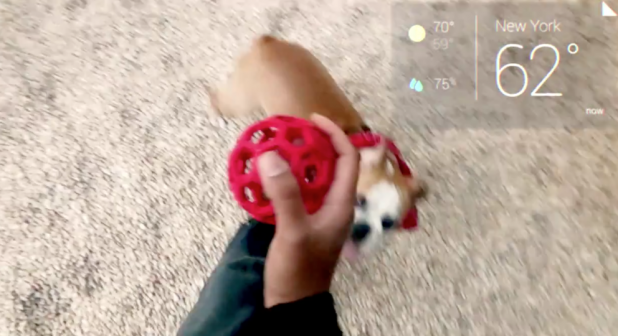 Google Glass could allow people to record and analyze their daily activities in new ways.[/caption]
Images: Nick Kolakowski, Google