Russian president Vladimir Putin appears to be interjecting himself into the controversy over T Platforms, the Russian supercomputer maker essentially blacklisted by the U.S. Department of Commerce. Meanwhile, T-Platforms' highest-profile U.S. customer, SUNY Stony Brook, says it severed ties with T-Platforms last year. [caption id="attachment_9534" align="alignleft" width="300"]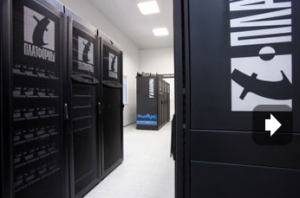 A T-Platform supercomputer.[/caption] In March, the U.S. Department of Commerce's Bureau of Industry and Security
added T-Platforms' businesses in Germany, Russia and Taiwan
to the "Entity List," which includes those believed to be acting contrary to the national security or foreign policy interests of the United States. Commerce felt, according to the notice, that T-Platforms may be illegally assisting the Russian military and/or its nuclear program. At the time, the highest-profile customer for T-Platforms was the State University of New York Stony Brook. T-Platforms said it delivered a supercomputer with undisclosed capabilities to the university in Oct. 2012,
according to a press release
. The supercomputer was delivered to the lab of Professor Artem R. Oganov, whose work involves the simulation and prediction of natural and industrial materials.
Oganov's resume (PDF)
also lists him as an adjunct professor at Moscow State University, where two
T-Platforms systems reside
. Robert Clifton Burns, a counsel at Brian Cave LLP,
had questioned
whether or not SUNY Stony Brook would be able to maintain the system, given the Commerce restrictions. "Somebody at SUNY right now is probably asking who on earth had the bright idea to buy this thing from Russia, because I'm sure that someone has realized by now that most requests for service by T-Platforms of this leviathan would inevitably require that SUNY transfer EAR99 technology to T-Platforms," Burns wrote. "Such a transfer would occur to the extent that the request would transfer to T-Platforms non-public information on the development, production or use of the computers." A spokesman for the university, however, said that the contract with T-Platforms had run its course. "The vendor agreement with T-Platforms was fulfilled and concluded in March 2012," he wrote in an email. "Upgrades to the machine were contracted on December 3, 2012 and performed by Dell. Support of the system is managed internally." Emails sent to Professor Oganov for comment were not returned. In the meantime, Russian president Vladimir Putin has reportedly weighed in on the T-Platforms question. "That's right. The use of political levers for unfair competition," Putin said,
according to RBTH.ru
. "Our European colleagues are independent people and they claim they want to work with us in certain spheres, yet they act as though they are absolutely dependent and unable to make their own decision. Is that so?"
RBTH.ru
also quoted Russian Economic Development Minister Andrei Belousov as saying that the T-Platforms situation represented "unfair competition." It's odd that Putin was quoted talking about "European colleagues" when the Americans were responsible for cutting T-Platforms off. In any case, does it indicate that some political pressure may be brought to bear to allow the Russian supercomputer maker back into the United States? Let's see if it happens.
Image: T-Platforms