Our weekly snapshot of who's hiring and who's firing across the IT landscape.
Hiring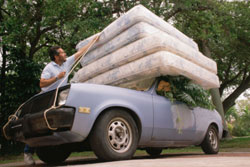 CompuCom Systems
, an IT consultant and outsourcer, will hire 200 tech workers over the next two years in Louisville, Ky. The company, which counts
General Electric
and
NBCUniversal
as some of its larger customers, handles network, server and storage support and is planning to add service-desk help to the mix. [Business First]
Seagate Technology
plans to add approximately 150 jobs to its Longmont, Colo., design center, most of them earmarked for engineers. The Silicon Valley-based disk drive maker employs more than 55,000 workers worldwide. [Longmont Times-Call] Game developer
Turbine
, based in Needham, Mass., is hiring for a number of positions, ranging from an analytic platform development manger to senior software engineers. Its executive director of engineering recently shared his insights on
how the company hires
. [Dice News]
Infotech Enterprises
, a network, product and process engineering solutions company, recently opened an office in Santa Clara, Calif., and plans to hire engineers experienced in ASIC design and verification, analog mixed signal verification, custom layout and DFT. [Dice News]
Layoffs
A Dice News user who's a former
TiVo
employee reports that TiVo has laid off approximately 50 permanent employees and contractors in its research and development area in three rounds of layoffs in the past nine 9 months. While TiVo declined to comment, the reader's figures sound about right. In its annual report, TiVo says it cut the number of regular, temporary and part-time R&D workers by 12 percent – or 65 employees - in the 12 months ending Jan. 31. As of that time, TiVo had 461 workers in R&D.
Xerox
is planning to cut nearly 300 workers from its business services operation in the coming months.
Xerox Business Services
will lay off 124 workers at its London, Ky., facility, while 149 employees tied to the Business Services' federal government solutions arm in New York will be terminated by Aug. 1. The layoffs come on the heels of a much broader round of 2,500 employees that Xerox cut last year. [Dice News] Defense contractor
L-3 Communication Systems
is cutting approximately 180 jobs -- or some 4.2 percent of its staff as a result of federal budget cuts. The reductions include engineering and technical staff. [KSL.com]
Avocent
, a data center planning and management solutions company owned by
Emerson Network Power
, cut 38 people from its U.S. operations, as its business slowed world-wide. The total number of cuts on a global basis reached 56 workers. [Waaytv.com]
IBM
is considering some reductions in the current quarter as it aims to meet its financial guidance to Wall Street. Although over the past six consecutive quarters, Big Blue's revenues have fallen, it remains in
hiring mode
for some aspects of its operations. [MarketWatch]
Is there hiring or firing going on at your company? Email what you know — in confidence, of course — to tips @ dice.com. (And remember, you probably don't want to send from your company email address.)