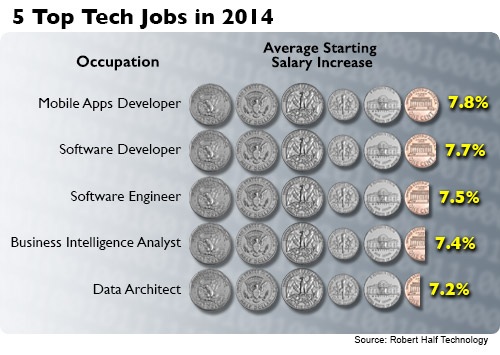 Mobile app developers top the list of
Robert Half Technology's
top growth tech jobs for 2014. Given the high demand for mobile-dev skills and the difficulty finding people who have them, that's no surprise. RHT compiles this list based on increases to average starting salaries. Next year, the
Internet of Things
will be a big driver of demand for software developers and engineers as more applications are built around everything from cars to house alarms to refrigerators. One thing spurring the need will be the number of enterprises that aren't yet familiar with the potential such products offer their business. "The problem is that most enterprises and technology vendors have yet to explore the possibilities of an expanded Internet and are not operationally or organizationally ready," according to a
Gartner
report cited by RHT. Meantime,
business intelligence workers
will pull in higher starting salaries with Big Data serving as a catalyst. "With so much data, companies need business-minded technology professionals to analyze it so they can glean valuable insights," says RHT. But not just any BI worker will get snapped up. Certain types – those who are familiar with designing and developing enterprise-wide data analysis and reporting solutions and others who can create data cleansing rules – will be in particular need. Candidates here are judged on such skills sets as
Oracle
,
Microsoft
SQL Server and other databases.