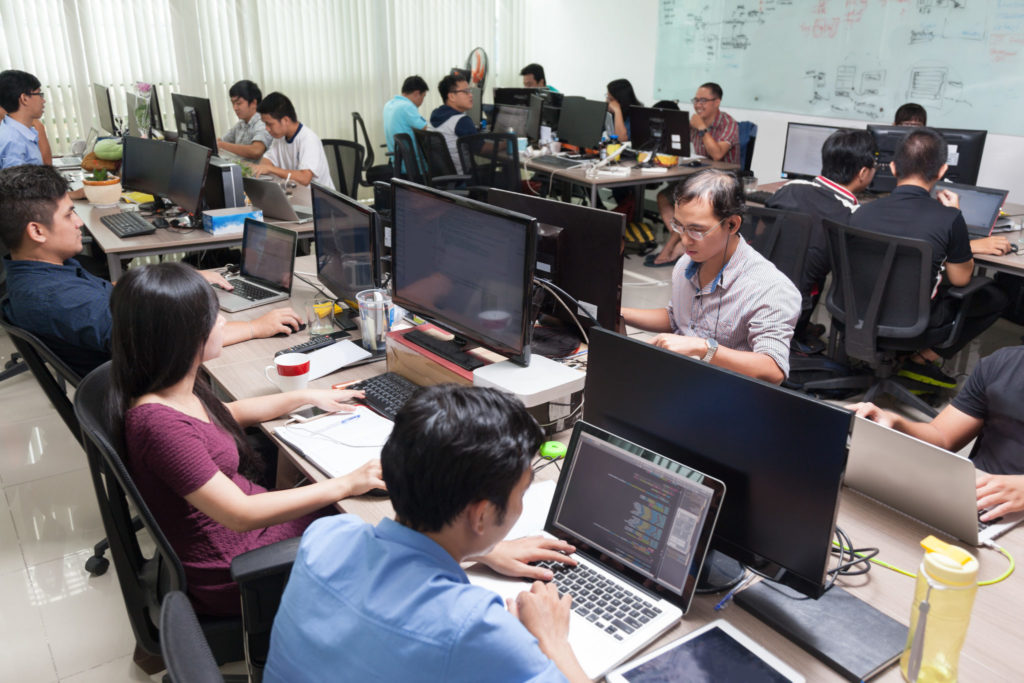 Although
72 percent of companies
outsource IT functions to third-party providers, the practice is still controversial. In fact, eight in ten adults say increased outsourcing of jobs to other countries hurts American workers, according to a
study
by Pew Research. Since outsourcing impacts the careers of tech professionals, we wanted to understand the key arguments from both sides of the debate. In that spirit, we asked several tech executives where they stand on outsourcing, and why. Not surprisingly, they were in favor of the practice, with caveats. Here are the advantages and disadvantages from their perspective.
Pro-Outsourcing Arguments
Tech executives view outsourcing, when used correctly, as a valuable strategic tool. "I actually come down somewhere in the middle," explained Will Weider, an experienced healthcare CIO who now works as an interim tech leader. "When an outsourcing initiative has a clear, well-understood goal and it serves a strategic purpose, then it has a good chance of succeeding." For instance, when Weider had to choose between building a new datacenter or turning over the day-to-day management of computing and storage resources to a third-party provider, he opted to outsource. The move not only lowered operating costs, it allowed him to focus energy, resources and capital on automating technology and workflows that improve patient care. He's also outsourced testing/QA and database management and administration to U.S. firms that had greater expertise than his in-house resources. Tech execs say that, given the rapid changes in technology, it's hard to keep up and do everything well. External service providers can achieve economies of scale and levels of expertise unavailable to individual companies. "Outsourcing non-strategic, operational tasks makes a lot of sense," agreed Zhenya Rozinskiy, an entrepreneur and consultant who previously worked as an IT director and VP of engineering. "It frees up your staff to focus on your organization's core competencies. But I certainly wouldn't outsource a weakness that is supposed to be a key differentiator or value-added service for your firm, such as development activities in a software company." Executives argue that, with those operational tasks absorbed by an outsourcing partner, current staffers can assume expanded responsibilities in areas such as project management. Outsourcing partners can also teach staffers new, specialized skills, explained Tom LaPlante, an experienced CIO and managing partner of Star Support. Indeed, the nature of outsourcing contracts has changed over time. What began as arm's-length agreements have (in some cases) become highly engaged, strategic partnerships. "You can't just throw it over the wall and get really good results," LaPlante noted. "But I'm not going to soft-soap it: there were times when our staff dropped from 50 to 35." Whether your company outsources or not, you need to be curious and willing to learn new things to have long-term job security in tech, he added.
Anti-Outsourcing Arguments
Although these executives had a positive experience and would outsource again, they insist that IT outsourcing is not a panacea and is not appropriate for every situation. For instance, outsourcing strictly for monetary reasons is a bad idea that will probably fail, according to Rozinskiy. "I wouldn't do it just because you can get the same people for less money," he said. "It's bad for morale and you'll just end up spending the money on something else. Companies that do that are shooting themselves in the foot." Actually, it's better to outsource when things are going well and the company is growing, Rozinskiy explained. When you take that approach, employees see it as a vehicle to sustain growth instead of a threat. Language, cultural and time differences, and data security have to be carefully considered when outsourcing IT functions overseas. "I have outsourced almost exclusively to domestic partners," Weider said. "I'm able to meet with them in-person and the communication is better. Frankly, I always felt that I have better control and would be able to hold a local company accountable if something went wrong." Weider's preference for domestic outsourcing is flourishing. According to a recent
article
in
The New York Times
, companies are "pulling back from hiring programmers a world away," even though an American programmer costs five to seven times more than an Indian developer. The bottom line is that, whether it's domestic or overseas, every business uses outsourced services, and the practice is here to stay. "You're better off embracing outsourcing and working to make yourself so good and versatile, that you're irreplaceable," Rozinskiy advised.