More technology professionals in the U.S. enjoyed merit raises over the last year, driving average salaries up in 2013. Average U.S. tech salaries increased nearly three percent to $87,811 in 2013, up from $85,619 the previous year, according to the 2014-2013 Salary Survey from Dice, the leading career site for technology and engineering professionals. (Tweet This)
Technology professionals understand they can easily find ways to grow their career in 2014, with two-thirds of respondents (65%) confident in finding a new, better position. That overwhelming confidence matched with declining salary satisfaction (54%, down from 57%) will keep tech-powered companies on edge about their retention strategies.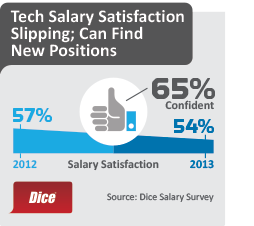 Employers are using selective and strategic increases in compensation to hold onto experienced tech talent. While the overall average salary increase was smaller than the previous year's historic jump of more than five percent, employers offered more frequent merit increases.
Increasingly Competitive Market for Tech Pros Boosts Merit Pay Increases
For those technology professionals whose salary increased in 2013, 45 percent say the increase was sparked by a merit raise, compared to 40 percent the previous year. Salary increases were more likely for tech professionals early in their career or with one to five years of experience, while bonuses are being used for more experienced tech professionals.
Thirty-four percent of respondents received a bonus as part of their 2013 compensation, with average bonuses totaling $9,323.
Tech professionals are recognizing employers' efforts, with just 34 percent of respondents saying their company offered no motivators last year, down from 47 percent who felt that way in 2009. Likewise, the motivator with the most dramatic rise over that timeframe: increased compensation.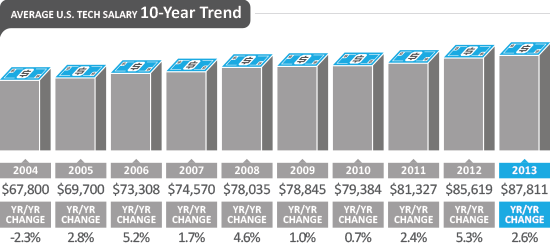 "With the tech unemployment rate low, technology professionals know they can take control of their careers," said Shravan Goli, President of Dice. "Tech hiring managers tell me they are stretching budgets where they can to keep their technology work forces focused and satisfied." (Tweet This)
Still More Bounce in California
Silicon Valley tops the list of highest paid metropolitan areas when it comes to tech talent, with an average annual salary of $108,603 and an average annual bonus of $12,458. The seven percent year-over-year increase in salary was partially driven by those tech professionals earning more than $250,000 being included in this year's results. Excluding those highly paid professionals, Silicon Valley salaries still increased at a greater rate than the national average or five percent year-over-year.
Most of the top ten markets enjoyed year-over-year salary increases at or above the national average, including Los Angeles ($95,815, up 4%), New York ($93,915, up 5%), Denver ($93,195, up 3%), Philadelphia ($92,138, up 8%), and Austin ($91,994, up 3%).
The notable exception in the top markets is number two: Baltimore/Washington, D.C. whose average salary of $97,588 was essentially unchanged year-over-year. Salaries in and around the nation's capital are boosted by the aerospace and defense industry whose average technology salaries rank second-highest among industries.
Salary milestones were captured in Atlanta and Charlotte, joining Philadelphia and Austin with average salaries for tech professionals above $90,000 for the first time.
For additional market information, an interactive map of average U.S. tech salaries for the 48 continuous states and key metropolitan areas is provided on Dice.
Big Data Dominates Top Paying Skills
Professionals with big data oriented languages, databases and skills garnered the highest pay checks, with nine of the top ten salaries related to big data:
| | | | | | | |
| --- | --- | --- | --- | --- | --- | --- |
| 1. | R | $115,531 | | 6. | Omnigraffle | $111,039 |
| 2. | NoSQL | $114,796 | | 7. | Pig | $109,561 |
| 3. | MapReduce | $114,396 | | 8. | Service Oriented Architecture | $108,997 |
| 4. | PMBok | $112,382 | | 9. | Hadoop | $108,669 |
| 5. | Cassandra | $112,382 | | 10. | Mongo DB | $107,825 |
"Companies are betting big that harnessing data can play a major role in their competitive plans and that is leading to high pay for critical skills," said Mr. Goli. "Technology professionals should be volunteering for big data projects, which makes them more valuable to their current employer and more marketable to other employers."
For additional information on top paying skills in product, design, mobile, cloud and other categories, please visit the 2014-2013 Dice Salary Survey.
Dice Salary Survey Methodology
The 2013 Dice Salary Survey was administered online, with 17,236 employed technology professionals responding between October 14, 2013 and November 29, 2013. Respondents were invited to participate in the survey through a notification on the Dice site and registered technology professionals were sent an email invitation. A cookie methodology was used to ensure that there was no duplication of responses between or within the various sample groups and duplicate responses from a single email address were removed. The Dice Salary Survey was adjusted for inflation in 2013: technology professionals earning salaries of $250,000 and above were not automatically eliminated from the survey if they met other criteria.
Media Contacts
Jennifer Bewley, Jonathan Blank and Rachel Ceccarelli
212-448-8288, dicemedia@dice.com