What keeps tech pros awake long into the night? Despite the tech industry's notably low unemployment rate, these pros fear their jobs being eliminated, according to the latest edition of the Dice Salary Survey. Some 16 percent of respondents cited "position/contract elimination" as a top concern, followed by finding a new job that matched their skill-set (14 percent), and keeping their skills up-to-date (12 percent). However intense those fears about losing their jobs or finding positions that match their skills, many tech pros are interested in landing a new job. Of those who anticipate changing employers this year, some 68 percent said they would do so to secure higher compensation. Money wasn't the only motivator, though, as 47 percent said they wanted better working conditions, and 34 percent sought a higher degree of responsibility. Indeed, those employees who exhibited a higher degree of satisfaction with their current position were also more likely to have access to training and education benefits. They also tended to have more options to work remotely or set a flexible schedule. It's not too much of a leap to assume that certain kinds of benefits lead to happier employees.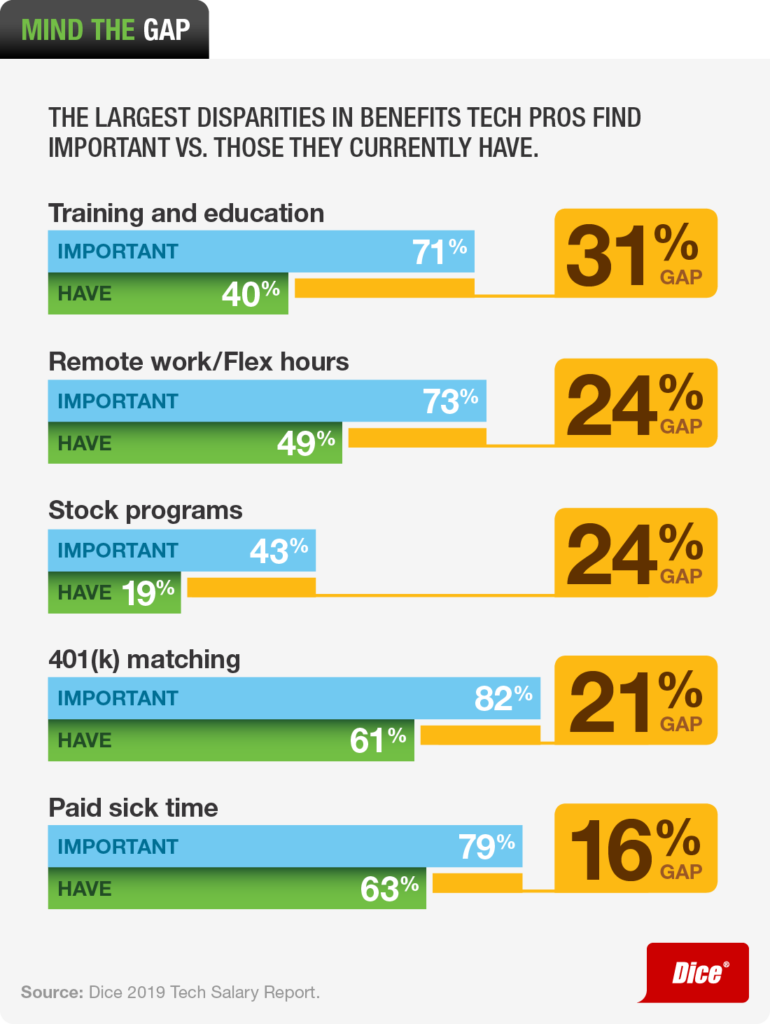 Upgrading Your Professional Life
The scarcity of tech talent has created some issues for employers, especially when it comes to locking down highly specialized skills. Dice's database has shown that employers are willing to pay increasing amounts of money for those with in-demand skill-sets such as machine learning and IT security. At the same time, not all employers have the cash to load up on lots of outside talent. While mega-firms such as Apple and Google have literally billions to
spend on the world's best developers and researchers
, smaller companies must stretch budgets in order to hire the tech pros they need. For tech pros, this paradigm creates several opportunities. Although an employer might not prove very willing to offer a massive salary bump, they might prove more amenable to negotiating a flexible schedule, remote work opportunities, or even a series of classes. When it comes to education, tech pros might need to work a bit to convince their employers to pay for classes and other training. Although 71 percent of employees rated training and education as "important," only 40 percent said they had access to those kinds of opportunities. That 31 percent gap between "importance" and access was larger than those for remote work and flexible schedules (24 percent), stock programs (also 24 percent), 401(k) opportunities (21 percent) and paid sick leave (16 percent).
Certifications: Great for Many, But Not All
Not every employee necessarily needs or wants
certifications
, which are a key goal of many educational pathways. Over half of respondents told Dice they didn't have any certifications. Most of those without certifications (45 percent) said they were not needed for their role. Some 16 percent said they didn't think certifications would be valuable for their current role. But 15 percent said their company didn't pay for certifications, and 15 percent said they didn't have the time to earn one. Looking at it from another perspective, though, a healthy percentage of employees are potentially open to earning certifications, provided their employers give them the necessary time and funding. Based on the Salary Survey's data, it's clear that tech pros want more than money; they want to keep their skills sharp, and their work-life balanced. Fortunately, the things that most concern employees are things that managers are often willing to negotiate over—provided employees ask for them.