A happy worker is a productive one. And what makes workers happy? According to a new survey, the ability to work remotely. Employers might want to consider their current remote-work policies in light of that.
As part of a broader survey of tech pros, HackerRank asked respondents to detail what a good work-life balance looked like. Over half (56.5 percent) of respondents said a good work-life balance was critical to their job aspirations. It even ranked above 'professional growth and learning' (55.1 percent).
Dice's own data solidifies that sentiment. With tech pro salaries leveling off, many workers are looking to benefits as a means to stay happy at their current job. Over 60 percent of respondents to Dice's most recent Salary Survey noted they'd be happy working outside of the office at least half the time.
In drilling down into the work-life balance topic, HackerRank has some fascinating takeaways. Students are more interested in professional growth than their more-established colleagues; the 18-to-24-year-old crowd isn't as worried about working remotely as other demographics. In HackerRank's survey, 'remote working' earned 80.5 percent of votes for how employers can improve the work-life balance, but only 74.3 percent of the under-25 crowd saw it as a benefit (interestingly, this age group was the most concerned about health benefits).
Dice came to a similar conclusion on that front, with the Salary Survey's under-30 crowd working remotely far less than other age groups.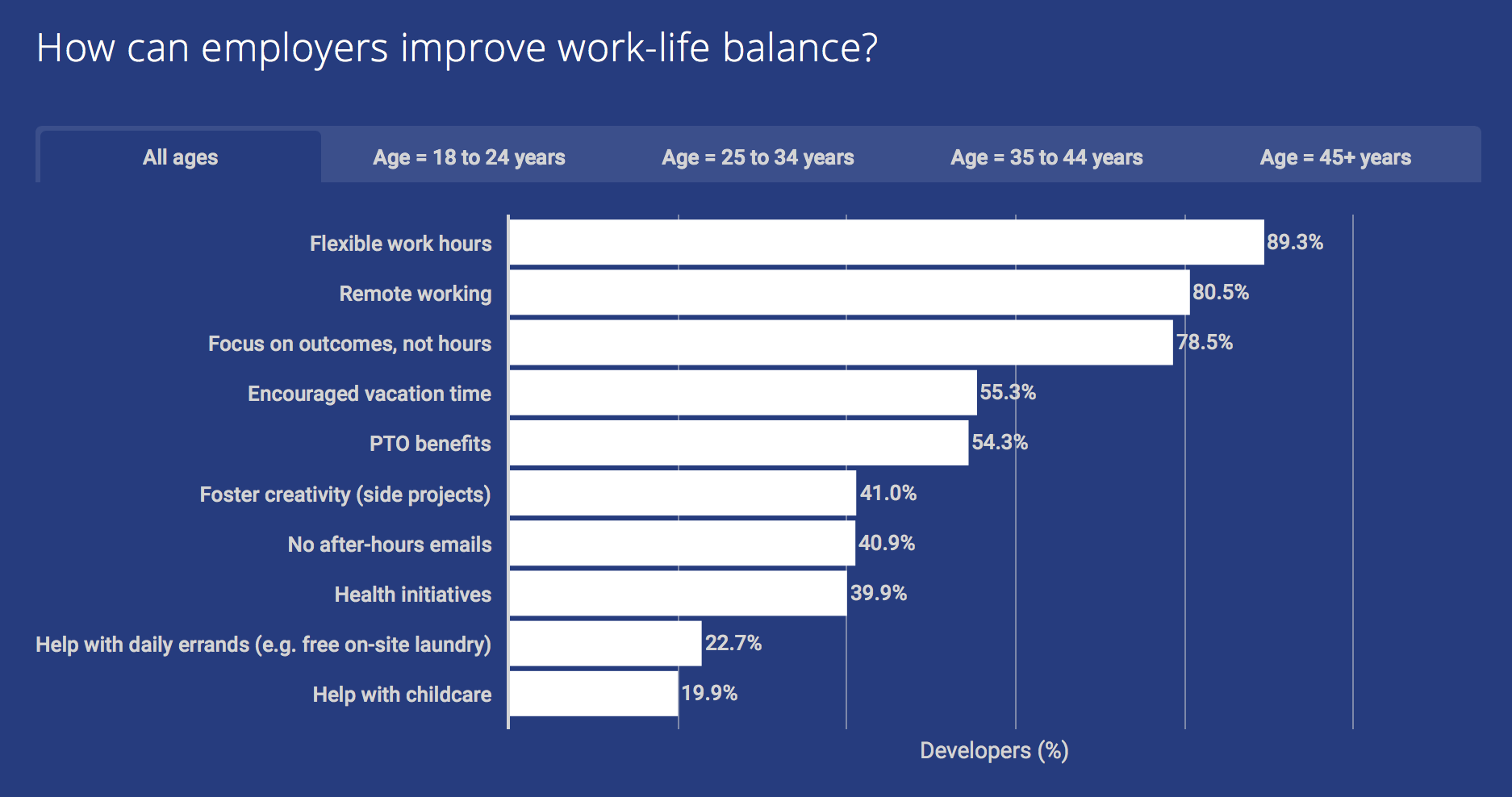 In HackerRank's survey, the number of tech pros who want to work remotely rose with age. Those in the 25-34 age group outpaced the average, with 81.1 percent saying they'd like to work from home, while the 35-44-year-old crowd wants to hunker down at the coffee shop even more (84.5 percent). The 45-plus crowd doesn't even want to put pants on, as 87.9 percent of them wish to work remotely.
The popular remote working tool provider Trello suggests that perception may be an issue here. While we joke about remote workers not putting pants on, some employers may think that's true (they may also assume remote employees should be available around the clock).
In an eBook, Trello challenges four of the largest myths about the remote working culture. The number-one myth is that "remote workers are slackers," which touches on that FOMO (fear of missing out) managers may have about a remote team or employee. Not being able to see someone at their desk may make employers anxious their charges aren't doing their job.
Getting over that hurdle may require a slight culture shift, too. If a company doesn't use a chat system like HipChat or Slack, remote collaboration is more difficult and isolating. Another myth on Trello's list suggests some companies think remote employment damages company culture: "Some people are wary of remote teams because they fear a lack of team camaraderie."
Despite some employers' fears, the remote-working culture is on the rise. If your employer is slow to adapt, HackerRank's survey notes flexible working hours are even more enticing to tech pros. Dice's own data shows employers are willing to negotiate for perks in lieu of better pay, so now is a great time to consider whether or not you really want to put on pants and commute to work every day (kidding-not-kidding).