The tech industry is enjoying a remarkably
low unemployment rate
, but that's not translating into rising salaries for technology professionals, according to the latest Dice Salary Survey. Average annual salaries in 2018 remained flat, at $93,244. That's a mere 0.6 percent increase from 2017. No wonder some 68 percent of respondents to Dice's survey said they'd change employers to receive higher compensation. (Some 47 percent said they'd switch jobs for better working conditions, while 34 percent said they'd do so for more responsibility; another 22 percent thought they might lose their current position, necessitating a job switch.) But even if companies can't (or won't) find the funding to pay tech pros radically bigger salaries, they can still offer enticing non-salary options such as training and education,
remote-working benefits
, and flexible schedules.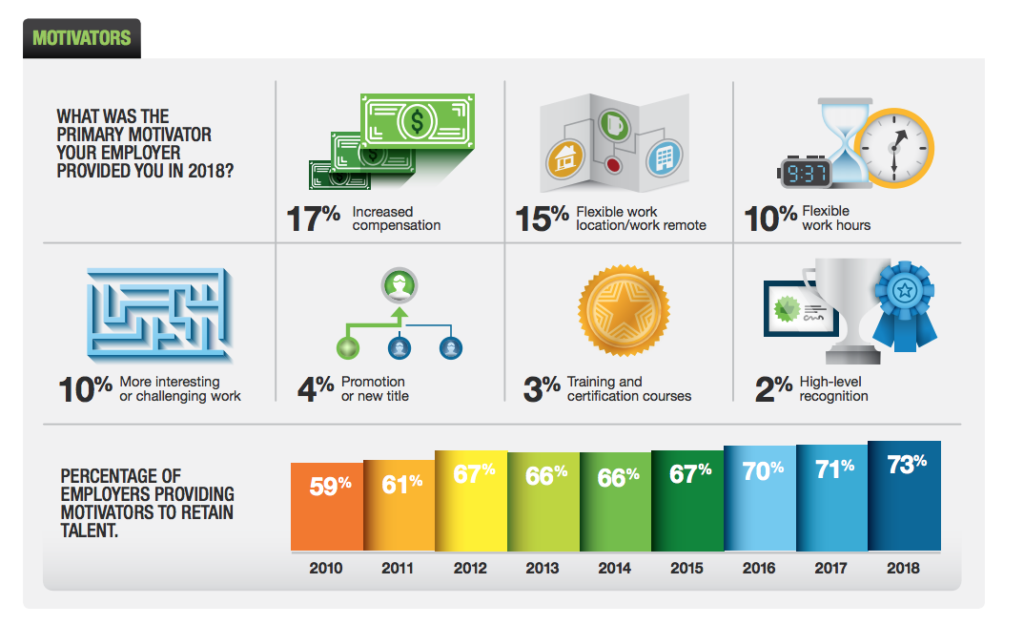 In the survey, around 71 percent of tech pros said that training and education are important to them, but only 40 percent currently have company-paid training and education; that's a 31 percent gap between what's desired and what's offered. Far more tech pros (45 percent) who are satisfied with their job receive training, whereas only 28 percent of those who are dissatisfied with their job receive training. Tech pros also overwhelmingly noted remote and flexible working options as important (73 percent), but only 49 percent currently have these options. This 24 percent gap is the second-largest between a desired benefit and what employers are offering, which ties into overall employee satisfaction: 55 percent of people who said they're satisfied with their job have remote and flex options, whereas 33 percent of those who are dissatisfied with their job have this benefit. "Offering skill-bolstering training keeps employees at the top of their game and could ease the minds of professionals wanting to feel motivated and invested," said Art Zeile, CEO of DHI Group, which owns Dice. Tech pros may find their managers more willing to negotiate over flexible scheduling (to name just one non-monetary benefit) than salary, especially if a company is already
wrestling with tight budgets
. As we head deeper in 2019, consider what you might want
besides
money. Your boss could prove surprisingly amenable to your request.