Management
and
technical consulting
jobs jumped nearly 5 percent in January to 1.2 million positions, as corporate America continues to embrace the notion of having outsiders handle their IT work despite an improving economy. A recent report, for example, found
tech and other knowledge workers are among the most highly sought after contractors or consultants
, compared with other industries, as companies find they like the flexibility in scaling back and increasing their workforce without the need to pay expensive benefits. Jobs in the computer systems, design and services industry, as well as the data processing, hosting and services industry, also posted greater gains in January than the 2.2 percent increase that the tech industry garnered overall. It's no surprise that the data processing, hosting and services industry showed gains, given the meteoric rise in
cloud computing
.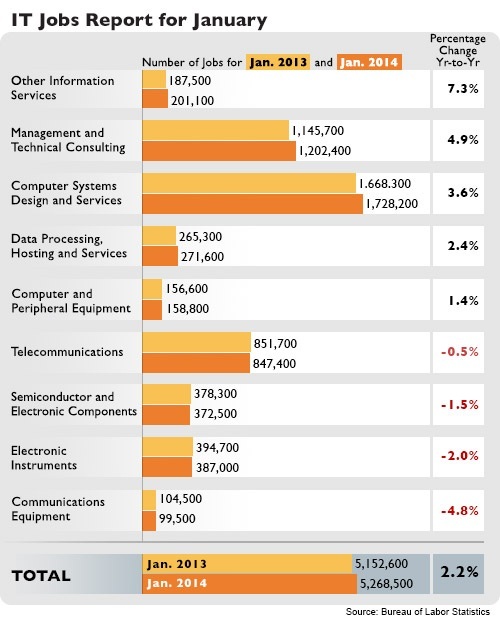 Drivers for the Tech Industry
IT jobs, overall, increased 2.2 percent in January to nearly 5.3 million jobs, compared with the same time last year, according to the Bureau of Labor Statistics. The increased IT hiring dovetails with a survey of U.S. CIOs by recruiting firm Robert Half Technology, which found
16 percent of CIOs surveyed planned to increase hiring during the first half
of the year. Driving this bullish outlook is a sense among CIOs that 2014 will bring an improved business climate, where companies will be willing to loosen up their purse strings and invest in new IT projects. Research firm
IDC estimates IT spending will accelerate by 5 percent worldwide in 2014
, as the U.S. and European economies move to a growth mode and China's economy rebounds.