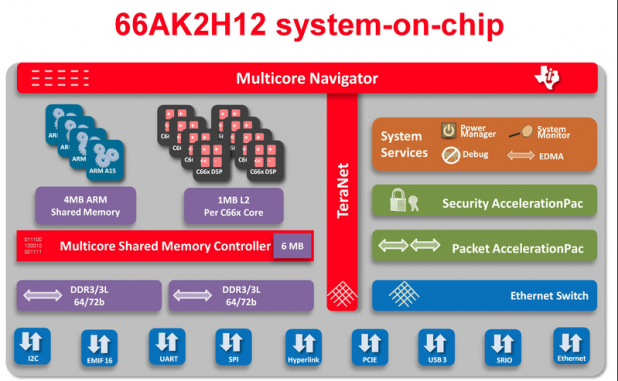 Texas Instruments has its eye on the cloud—specifically ARM-based servers designed for cloud applications. At the
Electronica 2012
show in Germany, TI unveiled six new multicore systems-on-a-chip, based on the company's KeyStone architecture. The new processors combine various numbers of ARM Cortex A-15 cores onto the chip and surround them with integrated packet processing and Ethernet switching. TI's new chips include:
66AK2EO2, which uses a Cortex A-15 processor and a C66x DSP;
66AK2EO5, which combines 4 Cortex A-15s and the C66x;
66AK2H06, with 2 Cortex A-15 cores and 4 C66X DSPs;
66AK2H12, with 4 Cortex-A15 cores and 8 C66X DSPs
AM52E02, with 2 Cortex-A15 cores
AM5K2E04, with 4 Cortex A-15 cores.
The last four chips will be of interest to server manufacturers. Both the 66AK2H06 and the 66AK2H12 are designed for high-performance computing, TI claimed, and the AM-series chips meant to power cloud infrastructure. TI's new cores drew an endorsement from Nimbix, an HPC infrastructure provider. "Using multicore DSPs in a cloud environment enables significant performance and operational advantages with accelerated compute intensive cloud applications," said Rob Sherrard, vice president of Service Delivery for Nimbix. However, TI designed its KeyStone chips not as the main engine of a server but as a coprocessor. "We think the real opportunity for us is to offload some of the processing general purpose servers do," Tom Flanagan, director of technical strategy for TI's multicore processors,
told EETimes
. "In some cases people may use ARM cores for classic server apps, but that's not our main target." Other providers providing solutions for TI's new chips include 3L Ltd., 6WIND, Advantech, Aricent, Azcom Technology, Canonical, CriticalBlue Enea, Ittiam Systems, Mentor Graphics, mimoOn, MontaVista Software, Nash Technologies, PolyCore Software and Wind River. The Cortex A15 cores use the 32-bit ARM v7 instruction set, but with 40-bit Large Physical Address Extensions (LPAE) that can address up to 1 terabyte of memory. Those cores are also expected to form the heart of other mobile cores such as the Samsung
Exynos
5250 and the Nvidia Tegra 4. TI was not among the licensees of the Cortex-A57 and Cortex-A53, the 64-bit architecture that ARM announced at
the end of last month
. The 64-bit architecture is viewed as one answer to the growing need for lower power in the data center while maintaining (or at least hoping to maintain) performance. For now, however, it appears that TI will attack the market with the arrows it already has in its quiver.
Image: Texas Instruments